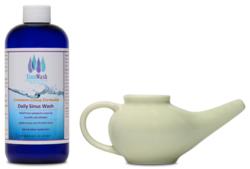 Our rinses provide sinus sufferers something more than just saline to treat sinus infections.
Saratoga Springs, NY (PRWEB) June 28, 2013
SinuWash, LLC based in Saratoga Springs, New York launched a new line of nasal sinus rinse products to the online market on June 1, 2013. The launch ends a three year research project to formulate an all-natural sinus rinse that treats sinus infections and allergies. Their line contains three products to address varying degrees of sinus ailments from a Common Sinus Formula for the typical sinus infection to an Xtra Strength Formula for Chronic Sinusitis. The company will be selling the new sinus rinses through their website http://www.sinuwash.com, Google Shopping, Ebay and Amazon as a part of this online phase of their product launch.
Nasal sinus rinses such as NeilMed, Ocean and Simply Saline, brands common in your local pharmacy, are saline solutions applied with a neti pot or similar applicator to moisturize the sinuses. The use of neti pots to irrigate the sinuses with nasal sinus rinses has become a more main stream treatment for sinus infections. The rate of sinus infections has increased to over 37 million annually in the US and SinuWash looks to make their mark in this 6 billion dollar industry with a different type of product. "Our rinses provide sinus sufferers something more than just saline to treat sinus infections. Our saline base solution has added active ingredients that address bacteria, mold, fungus and other common causes of sinus infections," says Kelly Reinhart, President of SinuWash.
Recent research has shown patients are becoming more resistance to the use of antibiotics to treat sinus infections. In fact there is research that suggests that overuse of antibiotics may increase the recurrence of sinus infections. Sinus infections are the fifth-leading reason that antibiotics are prescribed in the US. This antibiotic resistance has put nasal sinus rinses as the leading treatment for sinus infections. "When we formulated our products we knew it was important to give people suffering from sinus and allergy issues options in picking a sinus rinse that fits their symptoms. We are excited to start making a real difference in people's health and lives," stated Kelly Reinhart, President of SinuWash.
SinuWash plans on starting their online launch with a bang. Starting in July they will be running a "Switch from Saline" campaign and discounting their products to wholesale prices. The company says the campaign is to bring awareness of the benefits of a sinus wash with active all natural ingredients in a marketplace full of saline solutions. "We are so confident in our unique products we know that if people take the challenge to switch from a basic saline rinse, they will be surprised with the results. The campaign lets everyone give it a try," says Kelly Reinhart, President of SinuWash. SinuWash promotions can be found on their website, Facebook page and Twitter page.
For more information on the SinuWash line of products or to contact the company, visit on http://www.sinuwash.com, facebook.com/sinuwash, and twitter.com/sinuwash.