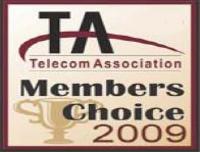 Winning TA's annual Members' Choice award is a significant tribute to each winner's channel partner and customer service Programs
Los Angeles, CA (PRWEB) March 1, 2009
AireSpring was awarded the coveted Members' Choice Award as the top "SIP Trunking" VOIP provider from the Telecom Association, a national professional membership organization of over 3,200 Telecom industry professionals. In addition, AireSpring was awarded 2nd place in the CLEC/LEC and Reseller categories and finished in the top 10 for Carrier, Internet/Data, and Multi-Location provider. The total of 6 major awards reinforces the effort that AireSpring has put into the creation of its Local, Long Distance, and Data products as well as the revolutionary next generation IP network which supports AireSpring's SIP products.
"Winning TA's annual Members' Choice award is a significant tribute to each winner's channel partner and customer service Programs," stated TA Founder Dan Baldwin. "This is the fourth consecutive year for our annual Members Choice award and we set a new record in ballots cast over the past several months."
"AireSpring is thrilled to be recognized by the TA for our achievements in IP communications and as a Carrier and Reseller of innovative, aggressively priced, voice and data products," stated Daniel Lonstein AireSpring COO. "IP Communication is the direction that the entire industry is moving; it is our privilege and honor to be chosen by fellow telecom professionals as the best SIP and VOIP provider in the industry. We continue to be inspired by the accolades we receive for our product line and look forward to releasing even more cutting-edge products in the coming year."
AireSpring's Voice, Data, and Integrated products are continually recognized by customers and agents as robust, flexible, and affordable. Over the past several years, AireSpring has been awarded Top Reseller, Top Channel Program, Top SIP Trunking Provider, and Product of the Year by various magazines and organizations. AireSpring currently offers lowest cost High Speed Internet, Voice, and SIP Trunking services as well as innovative hybrid products which deliver many of the advantages of SIP to customers with legacy TDM equipment. AireSpring continues to innovate and expand the reach and features of products offered through its groundbreaking enhanced IP network.
Telecom Agents, Resellers, Consultants, and customers looking for more information about AireSpring's products and/or partner programs should visit http://www.AireSpring.com.
About AireSpring
Headquartered in Los Angeles, award winning AireSpring is one of the fastest growing telecommunications carriers in the USA, with over 3 billion call records processed every year. AireSpring is a privately held, diversified, debt-free, and full service communications company which offers a broad range of innovative telecommunications services at competitive rates.
AireSpring offers next-generation voice, data, integrated, SIP/VoIP, and conferencing products designed to deliver power and flexibility at cost-effective rates. AireSpring has been voted, a "Product of the Year," "Best Telecom Deal," "Members Choice top reseller," "Top SIP Trunking Provider," and a "Top Channel Program" in recent years. Telecom agents and Value Added Resellers can find more information about AireSpring's Agent/VAR program at the AireSpring Partner Contact Us page, or by contacting Todd Regan at (818) 786-8990, ext 374.
# # #