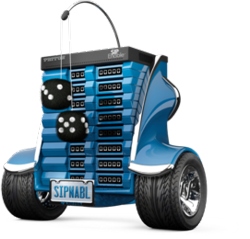 "VoIP Supply is excited to offer SIP Enable because it can immediately help any business still on the fence about upgrading to VoIP, save money and gain new telephony features," said Garrett Smith, VoIP Supply CMO.
Buffalo, NY (PRWEB) December 07, 2012
In less time than a morning coffee run, a businesses existing analog phone system could be taking advantage of the cost savings and features that VoIP has to offer with the new SIP Enable by Patton and Vitelity.
SIP Enable uses a Patton Smartnode VoIP Gateway and SIP Service from Vitelity to make a quick and easy switch to VoIP without having to invest in a new PBX.
Analog or digital PBX's that are still operational will realize their full ROI with SIP Enable and take advantage of lower toll costs by using Voice over IP.
Cost savings with VoIP can be up to 50% if a business relies heavily on outbound, long distance calling.
SIP Enable also provides these powerful features:

Send and receive SMS (text) messages with a desktop and a mobile client
Send and receive faxes with 99.3% reliability using vFax, Vitelity's faxing service (Also compatible with Audiocodes MP202 HTTPS/Fax gateway)
Give every employee their own phone number with DID origination, including SMS text to DID
Some companies just aren't ready to fully committment to VoIP so SIP Enable is a great compromise to gain new features, extend the life of perfectly good telephone equipment, and buy time before making the leap.
A f ree SIP Enable webinar on December 12, 2012 at 1:00-2:00 pm EST will discuss how to use VoIP with a legacy PBX.
The SIP Enable bundle includes a Patton Smartnode gateway and a $100 voucher for Vitelity VoIP Service.
All that's required is to connect the Smartnode gateway to an existing PBX, then connect the Smartnode gateway to the WAN. Once that's all plugged in, visit the SIP Enable Configurator and enter the new Vitelity SIP credentials, and within minutes a legacy PBX will be VoIP enabled.
"SIP enabling your old PBX has never been more simple than it is now," said Garrett Smith, Chief Marketing Officer at VoIP Supply. "VoIP Supply is excited to offer SIP Enable because it can immediately help any business still on the fence about upgrading to VoIP, save money and gain new telephony features."
For more information about SIP Enable from Patton and Vitelity available at VoIP Supply please visit http://www.voipsupply.com/manufacturer/patton/sipenable or, call toll free 800-398-8647
About VoIP Supply
VoIP Supply, LLC (http://www.voipsupply.com), a division of Sayers Technology Holdings, is North America's leading supplier of VoIP equipment and integrated communication systems for businesses of all sizes, service providers and resellers. Widely recognized for its depth of product knowledge and industry expertise, VoIP Supply sets the standard for vertical E-tailing – providing value-based pricing across its comprehensive product catalog, expert technical support, rapid product provisioning and installation, global logistics services and market-making promotions for manufacturers of all sizes. In addition to technology and service prowess, VoIP Supply is a three-time INC 5,000 honoree and in 2007, was ranked number 45 on the Entrepreneur Magazine's Hot 100 fastest growing companies in the U.S. Buffalo's Business First newspaper recently ranked VoIP Supply among Western New York's top 50 privately-held companies rating the company as one of the best places to work in the region, as well as the fastest growing company in WNY for 2006 by winning the Business First Fast Track 50 Award.