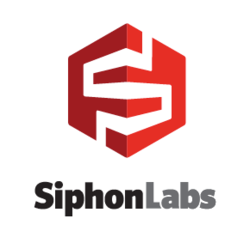 High-performance development, hosting and management platform for creatives
Dallas, TX (PRWEB) April 02, 2013
SiphonLabs is a high-performance, cloud-based development, hosting and management platform for creatives that is launching from the SoftLayer Catalyst Startup Program. It supports multiple content management software (CMS) platforms and will evolve to include additional CMS and ecommerce solutions that will enable developers, designers and agencies to manage website development across a range of platforms and host live websites for themselves or their clients, all from a single, intuitive dashboard. The SiphonLabs platform simplifies development, maintenance and hosting processes, freeing creatives to focus on what they do best—designing and developing great websites.
Two of the most popular CMS platforms, WordPress and MODX, will be available at launch. An ecommerce solution, potentially Magento, is likely to become the third option, with Drupal and Joomla! following.
Built around innovative "Siphon" processes, tasks that have traditionally required a reasonable level of technical skill and have taken hours, sometimes days, can now be completed in a fraction of the time, freeing users to focus on their core design and development activities. Examples include:
Installing and configuring software - 5 mins vs. 60-120 mins, a 92%+ time saving.
Duplicating a website - 5 mins vs. 60 mins, a 92% time saving.
Launching a backup - 20 mins vs. 180 mins, an 89% time saving.
Migrating a site to a client - 60 secs vs. 60 mins, a 98% time saving.
What are the Key Platform Features?
One cloud solution with multiple site-building options.
Ability to launch, clone, move, share and test sites in seconds with the Snapshot feature.
7-day rolling automatic backups for both development and live sites, with access to restores from the dashboard 24/7.
Collaboration with clients and other users by connecting accounts to manage and share cloud sites and development activities.
Intuitive dashboard that reduces complexity to a handful of clicks and is easy to use for all technical levels.
Highly secure, blazingly quick clouds on high-spec infrastructure with hosting options in multiple global datacenters (North America and Europe available at launch).
Software-specific support and knowledge available through SiphonLabs "Cloud Coaches" (support team).
Value-added services such as domain purchasing, email mailbox purchasing and setup, and SSL certificate purchasing and management, will be introduced later this year.
Why SiphonLabs over "regular" hosting?
SiphonLabs solves three critical problems:
1) Infrastructure and software management is a hassle. Worrying about software versions, compatibility, optimization, scaling, security and configuration is no fun and full of headaches;
2) Adhering to best practice deployment and maintenance processes is cumbersome. Development/staging/production protocols are difficult to setup, are often makeshift or omitted altogether, and regular backups are usually too old, hard to access or don't exist at all; and,
3) Technical skills are expensive. On-staff or outsourced technical roles such as System Administrators or Infrastructure Tech Support can be costly.
SiphonLabs is a platform and toolset designed for users to confidently and easily manage websites and website development without worrying about how the underpinning technology works. The SiphonLabs team works behind the scenes tuning and monitoring the underlying infrastructure and is continually working to make building, deploying, protecting and managing websites even easier.
What will it cost to use the SiphonLabs Service?
There is a free Laboratory plan that provides users with a 'sandbox' to learn how to use the platform at their own pace. When users need more resources, there are multiple monthly and annual plans they can select, from the $24/month Standard plan to the $225/month Enterprise plan. Each plan has an increased number of development clouds, perfect for users with a number of web projects on the go, and production clouds for hosting live websites or re-selling to clients, with more available to purchase as needed. Back-up and Snapshot storage in the Vault also increases with each level.
Why the name SiphonLabs?
'Siphon' refers to the 'Siphon' process and technology developed for the heart of the cloud platform. 'Labs' draws focus on a 'business and culture based on innovation' and refers to a 'Laboratory—a place equipped for experimentation or research'.
Learning more about SiphonLabs and signing up for a trial:
The SiphonLabs website shows much more information on the features being provided, as well as the option to request an invitation to the platform at launch. For the latest updates, and specific launch date, SiphonLabs can be followed on Facebook & Twitter as well.
For further questions, contact the Marketing Team through the website or email marketing(at)siphonlabs(dot)com.