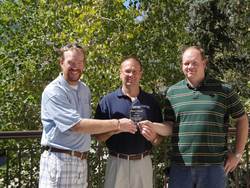 We were able to completely discontinue the paper process
Salt Lake City, UT (Vocus) September 17, 2009
The 2009 SIRE Client Awards were presented at the annual SIRE user conference in Park City, Utah. The award was created three years ago to honor SIRE clients that have demonstrated excellence in state and local governance by teaming with SIRE.
Kris Painter, President of SIRE Technologies, notes: "We share with our clients the commitment to excellence and improving their existing processes through our technology. We are thrilled to see some of these results and honor the clients who achieved them."
Wasatch County, UT - "Best Process Standardization" award
Congratulations to Wasatch County, Utah for implementing a system that streamlines and fully automates the building permit application and approval process, and provides a valuable service to constituents. Wasatch County has fully automated the permits application and approval process, allowing constituents to view and approve items electronically, track real-time status of applications, detect bottlenecks, reduce the reliance on paper, and make the process more efficient and measurable.
"We were able to completely discontinue the paper process", said Andy Yergensen, Wasatch County IS Department. "The consensus of opinion from both employees and applicants is that the new application is a great success - and a giant leap forward for Wasatch County." With SIRE, Wasatch County can now keep applicants informed of their permit status electronically, track applications in real-time, and identify bottlenecks by quantifying the amount of time each step requires.
Unlike most technology projects, Wasatch County experienced an exceptionally fast user adoption -, internal users were ready to abandon their paper process for this new and automated process almost immediately! Additionally, the County started receiving unsolicited emails complimenting the new application process.
"We have been able to build a quality solution that addressed a critical need", said Don Wood, CIO at Wasatch County. "The implementation of this solution has significantly increased the value and reputation of the Information Systems Department to the County and Wasatch County in general to the constituents who have requested a building permit."
About SIRE Technologies:
SIRE Technologies provides document management and agenda automation solutions specifically tailored to the needs of state and local government agencies.
Media Contact:
Sarah Ellington, Public Relations
SIRE Technologies
801-415-0632
###