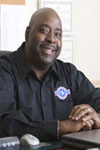 Baltimore, MD (PRWEB) February 18, 2013
Elected to run SI Restoration as the Chief Operating Officer is Mike Stiles, who obtains the expertise, leadership and managerial skills to lead a growing company of over 100 employees; serving 6 states including Maryland, New Jersey, Delaware, Pennsylvania, Washington DC, Virginia and New York.
Originally, Mike Stiles worked as a General Manager for Lowe's and Hechinger Hardware in the Baltimore Maryland area. After many years of hard work, Mike realized that retail wasn't his dream career. In 1999, Mike was approached by Jeff Cohn from SI Restoration (at that time it was Suite Images) to interview with SI Restoration as an Emergency Manager that would be responsible for managing crews who performed water damage, fire and smoke damage, and mold remediation. Mr. Stiles was interested at first, becoming very excited as he interviewed with the company and met the officers of the company Mike Cohn and Bob Reese.
They offered $10,000 less than what Mike was making at Hechingers. It was all they could afford back then but the opportunity that could be made at SI Restoration was larger and the potential was endless. Mike Stiles received ownership stock at his 10 year mark because of his hard work and dedication to SI Restoration. It's now been 14 years since the day that Mike Stiles accepted the offer to be Emergency Manager and now with the recent promotion to Chief Operating Officer, the opportunity proved to be a perfect fit.
The company has grown from 1 million dollars to over 10 million dollars since the day Mike Stiles took this opportunity in 1999. Now with the promotion, he expects to grow the company that has given him this opportunity to new levels of profitability. SI Restoration welcomes the new COO, Mike Stiles who represents himself and the company in a way that our customers will remember for years to come.