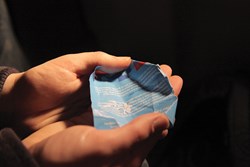 Sisa, a new stimulant drug is facing an epidemic in Greece, as the poor man's cocaine.
Miami, Florida (PRWEB) June 03, 2013
Like many of these new synthetic drugs, Sisa is a dangerous cocktail of potentially deadly chemicals manufactured in basement labs. Known as "cocaine for the poor," Sisa is cheap and highly addictive. It can be smoked, snorted or injected, the last being responsible for the increase in new cases of HIV infected addicts. While currently the drug is predominantly a problem in Greece, it is likely that, like other new synthetic drugs such as Kratom and Bath Salts that first gained popularity in other countries, it will be making its way to the United States soon. For full article, go to http://www.ibtimes.com/cheap-new-drug-decimating-greeces-homeless-economic-crisis-tightens-grip-1265539.
Recovery Associates Addiction Treatment Center explains how their program offers specific approaches tailored to the needs of the client, "In addition to treating the deeper issues that have contributed to an individual abusing drugs in the first place, we also look at the traumatic issues and events related to active addiction. The physical, psychological, legal and financial consequences of using are different for everyone."
Recovery Associates is a drug and alcohol treatment center that provides a variety of programs and services for men, women and teens struggling with chemical dependency issues. At the core of their philosophy is the belief that addiction is a treatable illness. Their addiction treatment experience has shown that anyone is capable of achieving lasting recovery and physical, mental and spiritual freedom from the disease of addiction.
Their unique program offers three different tracks: a Traditional Track, an Expressive Therapies Track, Teen Drug Rehab Track and a Christian Addiction Track. They believe that by utilizing a variety of therapies they can better assist their clients in finding their own individualized path to recovery. Their focus is on the underlying issues that have led to the addictive behaviors and destructive patterns.
Recovery Associates' multidisciplinary team is made up of a Board Certified Addictions Psychiatrist, Master's Level Therapists and Certified Addictions Counselors. They are passionate about recovery and helping individuals and families begin the healing process.