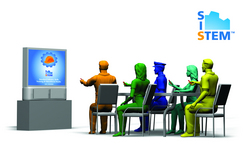 Training is a large component of the GFSI, SQF and BRC guidelines and without it, companies put themselves at a high risk for injuries, product recalls, lawsuits and failed audits
Austin, TX (PRWEB) May 7, 2008
Within the last year, pressure has mounted on food processors and manufacturers to quickly comply with stronger food safety standards, such as those outlined in new and emerging standards like Safe Quality Food (SQF), British Retail Consortium (BRC) and other Global Food Safety Initiative (GFSI) standards. Alchemy Systems' unique group-based training platform, SISTEM™, supports these requirements and immediately helps food companies get a head start in becoming certified.
As a leader in innovative learning and training solutions, Alchemy provides effective programs that can greatly improve a company's regulatory compliance management and training. Over 1.5 million courses have been delivered with SISTEM to help production workers complete their food and industrial safety compliance training. In addition, most participating employers report 100% audit compliance for the maintenance of their training records.
"Training is a large component of the GFSI, SQF and BRC guidelines and without it, companies put themselves at a high risk for injuries, product recalls, lawsuits and failed audits", said Jeff Eastman, CEO of Alchemy Systems. "Conventional training methods such as DVDs and handouts simply do not provide the effectiveness and documentation needed to ensure a safe work environment in today's food plants. SISTEM is a proactive and cost-effective solution that reduces these risks with up-to-date training materials and automated documentation, which helps companies to meet demanding certification requirements."
Using simple, color-coded handheld remotes, participants answer questions provided throughout the courses to keep them engaged. The job-specific multilingual content, provided in both English and Spanish, and the ability to interact with the material has been proven to help employees retain the information longer, which in turn helps prevent food safety incidents.
The remotes are also used to authenticate a participant's attendance, ensure they are attentive throughout the course and verify their comprehension. Training and compliance reports are available through SISTEM's web-based interface, which provides a central location for all training resources and documentation and has the ability to be integrated with the company's human resource management systems (HRIS).
SISTEM has over 50 food industry developed courses that support SQF and BRC training requirements, including HACCP, OSHA, food safety, mandated and job success libraries. In addition, Alchemy Systems partners with Silliker, Inc., the leading international provider of food testing and consulting services, to create specific food safety courses that help companies meet their certification needs. These courses include good manufacturing practices (GMPs), plant sanitation and food allergen control.
"Silliker recognizes the importance of solutions, such as SISTEM, targeted at improving food safety and quality, which is why we value our partnership with Alchemy", said Dr. Gustavo Gonzalez, manager of education at Silliker, Inc. "Companies that have been through an SQF audit will tell you that training gets a thorough review. For example, auditors can ask employees about their training to measure understanding. SISTEM proves to be a valuable tool for enabling companies to improve the delivery and comprehension, associated with training, to their employees."
In December, Wal-Mart Stores, Inc., the largest grocery retailer in the U.S., notified its food suppliers that they must become certified under one of the GFSI standards. Other retailers are widely expected to follow Wal-Mart's lead in the U.S. Because of the interdependencies in the food growing, processing and retailing network, it is expected that most food companies will be touched by the requirements of the GFSI initiative.
This initiative is strongly supported by Alchemy's SISTEM platform, as it is Alchemy's goal to create a safer food chain and better-educated work environment, which in turn creates stronger companies and communities.
Alchemy Systems, based in Austin, Texas, provides technology and multimedia training solutions for fostering talent development in the global workforce. Courses are delivered and managed through a unique group-based training platform or as individual e-learning courses through a web-based learning management system. Alchemy's course catalog includes highly-interactive educational media and covers topics such as job search, career readiness, industrial safety, mandated training, basic supervision and job success skills, as well as industry-specific training courses. More information about Alchemy is available online at http://www.alchemysystems.com.
# # #