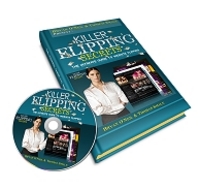 With this exclusive product, we have successfully taken e-Learning to a whole new level
(PRWEB) June 16, 2010
After a hugely successful pre-launch campaign, Flipping Enterprises Ltd. announced yesterday the public launch of their popular e-Course called Killer Flipping Secrets – a "Business in a Box" type product dedicated to getting newcomers started in the extremely lucrative business of Website Flipping, dubbed Virtual Real Estate Development by some.
Commented Bryan O'Neil, one of the two authors of Killer Flipping Secrets: "With this exclusive product, we have successfully taken e-Learning to a whole new level. Not only does our e-Course teach how to get started in the extremely lucrative business of Virtual Real Estate and provide proven Step-by-Step plans to generate a six-figure income with zero capital, it also provides direct access to some of the brightest minds of the industry. This works through a Private Forum FlippingNetwork.com – a communication channel that has so far been limited to only the best in business."
Thomas Smale, the other master mind behind Killer Flipping Secrets adds: "It is a pity that the $73 Million Dollar industry has so far been controlled solely by a handful of experts who rake in 90% of the profits. Our goal is to show the average people how to get started in this business and help them achieve five to six figure profits even with no initial investment."
Website Flipping or Virtual Real Estate Flipping has been around for only a few years but it has witnessed an immense growth, and together with the growth of the Internet, some professionals expect this industry to further grow as much as 450% by 2012, undoubtedly generating a large number of Site Flipping Millionaires.
According to O'Neil: "Our pre-launch campaign has already generated a number of success stories, some of which we have made available at our website http://KillerFlippingSecrets.com/. This, combined with the fact that our e-course has been endorsed by the key players of the industry, including Flippa.com – the largest Website Marketplace in the world – makes it a truly unique opportunity and we are extremely excited to have published a number of tactics and techniques that have so far been kept within the inner-circle of Flipping Professionals."
The management of Killer Flipping Secrets believes their course will change the industry for good – bringing it much closer to the general public than it has ever been.
If you would like more information about this topic, or to schedule an interview with Bryan O'Neil and Thomas Smale, please email Bryan at bryan(at)flippingnetwork(dot)com.
###