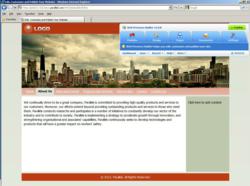 get a professional looking web presence for a modest amount of work and cost
Las Vegas, NV (PRWEB) September 12, 2012
Web Site Source, a web hosting, virtual private server, and E-Commerce hosting provider announces the availability of new Website hosting plans and a Website builder.
Web Site Source has adopted, for all new clients, Parallel's just released Plesk 11 ecosystem including the Web Presence site builder. The new hosting plans start at $5.95 per month, feature free setup and include ample resources for typical websites including unlimited website disk space.
The new Website builder, Web Presence, guides even a novice user through a drag and drop site building experience. Over 100 subject matter templates under categories like services, retail businesses, entertainment and leisure, fan and hobby, etc are available to make the customization process even faster and more relevant. Potential customers can take a test drive by clicking here or visit the Web Site Source website and click on the demo or video links.
Website Source customers have been asking for a Website builder for quite some time. Most Website owners aren't experts in internet technology; they just want to get a professional looking web presence for a modest amount of work and cost. Web Presence gives them that opportunity.
Web Presence is a great choice for people that have little technical knowledge, but have some time to devote for developing a site. Another great feature of Web Presence is that it is a lot easier to maintain a site. Uploading a new page or text is simple and fast since there is no code to be written. Just enter the content into the area that is similar to any other text editor, like Microsoft Word. An editor is provided to change colors or other overall design elements to give the site a makeover to keep it fresh.
Web Site Source also offers virtual private servers under the new Plesk 11 ecosystem. Those packages are best suited for more complex sites such as those that include advanced ecommerce functionality. Hosting plans start at $23.95 per month.
Reseller plans starting at $26.95 per month and affiliate sales partner programs are also available. SSL certificates and enhanced email functionality such as premium spam filtering are offered as upgrades.
About Web Site Source (http://www.websitesource.com) an Areti Web Innovations Inc brand (http://www.aretiwebinnovations.com, US Stock Ticker: AWEB)