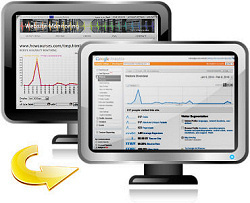 lots of webmasters will welcome the feature of having availability data in their Google Analytics panels
New York, NY (PRWEB) March 10, 2010
Website availability monitoring service provided by SITEIMPULSE now offers integration with Google Analytics.
For every on-line business its website availability is critical. Even one minute of website being down causes a significant loss for its owner. Whether it means lost sales, registrations, media contacts or banner impressions - it costs money.
E-marketers, webmasters and agencies are aware of that - this is why availability monitoring services are so popular. These constantly check websites for their availability and - in case of a failure - instantly send email and mobile text (SMS) alerts. They also provide full history of websites uptime, enabling hosting SLAs to be verified.
Since Google Analytics is the most popular traffic monitoring service, lots of webmasters will welcome the feature of having availability data in their Google Analytics panels. If they decide to choose Website-Monitoring.com as their availability monitoring provider, they will be able to see unavailability events & durations charts next to visits, unique users etc.
The website monitoring from SITEIMPULSE is a very good value for money - it's one of the cheapest services on the market. For $59/year (less than $5/month) customers get 1-minute monitoring performed by a global network of servers located on 3 continents.
The service can be tested with no obligation with 14-day free trial period.
SITEIMPULSE is an Internet Marketing agency founded in 1998, offering website monitoring services since 2001. Beside website design and promotion, SITEIMPULSE runs several on-line services: Website Monitoring, URL Shortener, Anti-spam Email Protection.
###