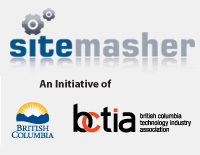 The pavilion positions the province as the pre-eminent economic and cultural crossroads between Asia and North America
Vancouver, BC (PRWEB) May 16, 2008
Sitemasher Corporation plans to join other tech industry stakeholders in Beijing next week for the British Columbia Technology Summit, an exclusive program to introduce Canadian companies with Chinese industry partners.
The event is sponsored by the British Columbia Technology Industry Association (BCTIA) as part of a Canadian trade mission composed of high-tech companies in the information/communication, clean energy and environmental sectors.
The summit, which will take place May 21 to 23, is the second BCTIA program in its International Business Summits series.
"Sitemasher wants to hear from other parties interested in partnering and reselling technology in the Asia Pacific region," said Ron Moravek, chief executive officer. "Samson Mow, our strategic alliance manager, will be on hand for one-on-one meetings in Beijing." To arrange a meeting, contact Samson from May 19 to 23 in China at 13681887075.
Mow will make a presentation May 21, as one of 28 leading Canadian technology firms presenting, along with Verrus Mobile Technologies, Contec Innovations, E-xact Transactions, Threewave Software and Ballard Power Systems - to name a few.
The summit will be hosted at the British Columbia Canada Pavilion, for which an opening ceremony will be held May 22. The pavilion, located just outside Tiananmen Square, is intended to help build new relationships and strengthen partnerships between Canada and China, according to a spokeswoman with the BCTIA.
"The pavilion positions the province as the pre-eminent economic and cultural crossroads between Asia and North America," she said, "building on what started at the 2006 Torino Olympic and Paralympic Winter Games, where the British Columbia-Canada Place attracted more than 100,000 visitors."
Sitemasher's venture to Beijing comes on the heels of a trip to Las Vegas, where the start-up firm was one of 14 exclusive companies featured at Innovation Showcase at Software 2008 in April. The event was described by a trade-show official as "the stage on which the most exciting companies can present their solutions to a top-tier audience of industry leaders."
"We did just that," said Nicole Denil, Sitemasher's vice president of sales and marketing. "And we had a captive audience, too. The Sitemasher system is a one-stop-shop for building, managing, and optimizing websites. We had fun showing off this revolutionary new SaaS-based technology."
Sitemasher, with offices in Vancouver, British Columbia and Miami, was formed in August 2007 with six co-founders. Phil Calvin, initial founder and chief technical officer of Sitemasher, began building Sitemasher's product 18 months prior to the incorporation. Eric Carlson became the sole venture capitalist and partner in December.
Calvin's background includes founding Motivus Software Ltd., a pioneer in the next-generation remote-access marketplace. Motivus was acquired by Citrix Systems Inc. in March 2004 and continues to be a significant component of the Citrix Access Gateway product family.
With the Motivus success story under his belt, Calvin turned his entrepreneurial energy toward gathering a talented, experienced executive team from a variety of technology disciplines with a knack for pioneering new concepts to bring his Sitemasher vision to reality. Ron Moravek, chief executive officer, joined the new corporation in August 2007 along with Curtis Terry, chief financial officer and chief operating officer for Sitemasher, both from Electronic Arts, Canada.
Eric Dorgelo, vice president of development, joined the team from Rockwell. Denil joined Sitemasher from Microsoft Corporation.
About Sitemasher
Sitemasher is a SaaS-based platform that streamlines the lifecycle of building, managing, and optimizing sophisticated websites.