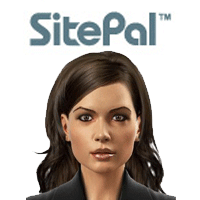 New York (PRWEB) June 27, 2013
SitePal, the world's leading solution for online Speaking Avatars has just introduced a website overlay option. Users who publish their SitePal Avatar to their webpage may now position the avatar on top of their page as a floating item. This allows users to introduce Speaking Avatars to their website much more easily, as they no longer have to change their page layout to accommodate the avatar.
SitePal enables the user to preview their webpage and position their avatar anywhere over the page. The avatar can then be fixed to the window where it will not move with the page, or be fixed to the content, as if it were part of the page. This provides great flexibility without requiring users to be tech savvy.
"Our customers appreciate the benefits of the overlay feature, as they find it simple to set up without any modification to their page" said Eric Kiang, Product Manager of SitePal.
The embed overlay option can be configured to allow page owners and page visitors more control. For example visitors can be allowed to move the avatar wherever they desire or minimize it if they prefer. To keep users engaged, the Speaking Avatar may appear as the page loads, or may be configured to wait and appear only after the user has spent some time on the page.
To add their SitePal Speaking Avatar over their page, users need only paste a given code segment anywhere in the body tag of their site page.
The website overlay feature is available now for all Speaking Avatars for SitePal Bronze, Silver, Gold & Platinum users.
For more information please contact: info(at)sitepal(dot)com
About SitePal
SitePal is an easy-to-use service that allows users to create a Speaking Avatar for their websites and empower their online communication. SitePal is the world's leading solution for using Speaking Avatars for business. Hundreds of thousands of business websites have incorporated SitePal Avatars to enhance their business, with SitePal avatars used as virtual sales & support people, virtual teachers, and many other uses.
SitePal offers 2D and 3D styles of speaking characters, including photorealistic 3D characters created from an actual person. Users can record any audio for the SitePal characters to say.
SitePal is developed & sold by Oddcast Inc.