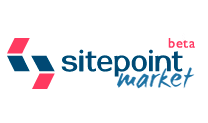 SitePoint Market is a dedicated space where web developers and designers can list their services, find clients and trade products and services
Melbourne, Australia (Vocus/PRWEB) March 03, 2011
The leading information provider for web developers and designers, SitePoint, has just announced the launch of a new a new standalone website, SitePoint Market. It is a Craigslist-style site, that has been created as a marketplace for web designers and developers to source work, outsource web projects, and to buy and sell web-related products.
Since 2005 SitePoint has managed SitePoint Marketplace within its main website, but the popularity of the section, the company believes, warranted it having its own home.
"SitePoint Market is a dedicated space where web developers and designers can list their services, find clients and trade products and services" explained Mark Harbottle, SitePoint Co-Founder. "The objective is to help them get more clients and to grow their businesses."
SitePoint Market
One of the biggest challenges that web developers face, is finding clients. SitePoint Market gives them the opportunity to find more work by listing their services on a site that has a focus on web design and development. There are other places where they can advertise their businesses, of course, but none have the specific focus of SitePoint Market.
Outsourcing whole or part projects is now easier as well. Whether it is search engine marketing, website content creation or back-end development, through SitePoint Market, users can buy, sell or trade services.
"The free Skills Exchange is an ideal way for web developers and designers to keep a lid on expenses while building their business." said Mr Harbottle. "And SitePoint Market is all about helping our users to grow businesses from their unique skills."
The site is divided into three sections: Find Products, Find Projects and Find People, each with a set of subcategories that provides easy navigation to the product or service of interest. Posting a listing is an easy step-by-step process.
There is a variety of pricing levels, with the currency of the site being 'Marketplace Credits' -- each worth $US1. Free postings are offered in the 'Want To Buy', 'Link Exchange' and 'Skills Exchange' sections.
All transactions on the site are between buyer and seller, with SitePoint being the neutral facilitator that brings them together.
Kick Start Offer A Great Success
In launching SitePoint Market, users who listed on the site in the first 7 days of its operation are receiving a US$50 bonus for future listings. This offer closes on March 7th, 2011.
For more details visit sitepointmarket.com
About SitePoint Market
SitePoint Market an exciting new marketplace for web developers and web designers to find more work, outsource web projects, and buy and sell web products.
About SitePoint
sitepoint.com is an online magazine and book publisher for professional Web Developers, Freelancers and Web Design Firms. The sitepoint.com Website reaches close to 3.0 million unique visitors per month.
# # #