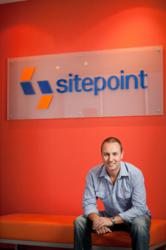 The Kit has been revamped with a modern perspective, with every component taking into account current industry trends and emerging technologies
(Vocus/PRWEB) February 22, 2011
Specialist online business book publisher SitePoint has announced the release of the third edition of its number one product, The Web Design Business Kit. With the added expertise of a highly acclaimed new author, the Kit makes it easier than ever to turn a talent for web design into a profitable business.
The Web Design Business Kit from SitePoint has for 7 years been the most popular resource for web designers wanting create a profitable business from their talent. It been the foundation for some of the most successful web design business, both large and small, and remains one of the must-have resources in the industry.
Now, in updating The Web Design Business Kit as its 3rd Edition, SitePoint has recognized that the main reason online businesses fail is through lack of support, training and resources. This is particularly so for those who have a creative rather than business mindset, yet whose aim is to run a profitable business.
"The Kit has been revamped with a modern perspective, with every component taking into account current industry trends and emerging technologies," says Mark Harbottle, SitePoint's Co-Founder. (this will be the boxed quote within the release).
"To achieve this, we are pleased to announce that our new contributor to the Kit is not just a web design expert, but a well-credentialed business growth specialist, Peter Williams," he continued.
New Author, Peter Williams
Peter Williams, who has successfully launched and grown multi-million dollar companies, injects a unique blend of high level business and web design expertise into every facet of the Kit, taking it to a whole new level.
In The Web Design Business Kit, he takes a holistic approach to setting up and growing a business. Williams mentors users through each stage, and provides the necessary tools, forms, documents, and skills that are vital in creating and growing a successful, modern, web design business.
Establishing any business in challenging economic times is fraught with pitfalls, but with a mentor of Peter Williams' caliber, web designers now have the resources needed to able to leverage the growing need for their talents.
Leveraging a Growing Demand
As more and more offline businesses seek an online presence - professional web design businesses are being sought by traditional marketing and PR agencies along with small business consultants. They need to deliver websites to their clients as part of a full-service approach to their business.
The business of web design is a competitive one, and the digital sector rewards quality, reliability and results. Knowing how to demonstrate and market these, getting ahead of the competition, and staying there, are core teachings in The Web Design Business Kit.
The Web Design Business Kit is now available from SitePoint.
About Peter Williams
Peter Williams originally qualified as a chartered accountant before moving into the web space In 1993. He founded Deloitte Australia's ebusiness consulting group in 1996, and became CEO of Eclipse, a web design business, in 2002. In his five years at Eclipse, Peter grew the business from 45 to 150 employees, making approximately $20 million in revenue. He then launched Deloitte Digital, a subsidiary of Deloitte, which provides professional services online.
Peter is an adjunct professor at RMIT School of Management and a board member of Emue Technologies and Circus Oz. He is also the chairman of Deloitte Australia's Innovation Council, and a sought-after speaker and commentator on all things online, mobile, and social media.
About SitePoint
SitePoint.com is an online magazine and book publisher for professional Web Developers, Freelancers and Web Design Firms. The SitePoint.com Website reaches 2.0 million unique visitors per month.
# # #