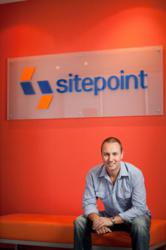 ....owners may also access downloadable examples from every chapter, in both VB and C#, which they can take away and use in the real world
Melbourne, Australia (PRWEB) September 21, 2011
This week, highly regarded specialist online book publisher, Sitepoint, launched an updated resource for web designers, developers and programmers. In the fourth edition of 'Build Your Own ASP.NET 4 Website Using C# & VB', the company delivers the foundations for building just about any kind of website.
Its step-by-step format was designed to ensure its usability by even those website designers with little more than a basic knowledge of HTML and CSS. And, according to Sitepoint, this streamlined approach to ASP.NET is long overdue.
"Authors Christian Darie, Wyatt Barnett, and Tim Posey have succeeded in providing web developers with a rock-solid foundation in theory and then take them by the virtual hand -- guiding them through practical exercises." said Sitepoint Co-Founder Mark Harbottle.
He continued: "In addition, owners may also access downloadable examples from every chapter, in both VB and C#, which they can take away and use in the real world."
Visual Basic and C# are the two most popular languages used for creating ASP.NET websites. With the aid of 'Build Your Own ASP.NET 4 Website Using C# & VB', web developers who are well versed in PHP, Java and Ruby will, believes the Sitepoint team, find the transition to ASP.NET easy.
Learn By Doing
"By taking a 'learn by doing' approach, Darie, Barnett and Posey show how to put theory into practice, in a cohesive and logical way." explained Mr Harbottle. "An actual project is taken on a concept-to-completion journey, demonstrating how ASP.NET 4 works, and is applied in the real world."
Each chapter in 'Build Your Own ASP.NET 4 Website Using C# & VB' builds on the one before, introducing new technologies. It reveals techniques that streamline tasks that, for web developers, were previously time-consuming and cumbersome in classic ASP.
Key learnings include:

How to set up the free software you need for ASP.NET.
Build a complete website from scratch using ASP.NET.
Use the code examples for your future ASP.NET projects.
How to easily integrate data from Microsoft SQL Server.
Use MVC to structure your web applications.
About Sitepoint
SitePoint.com is an online magazine and book publisher for professional web developers, freelancers and web design firms. The SitePoint.com website reaches 2.0 million unique visitors per month. More information is available at http://www.sitepoint.com
About Cristian Darie
Cristian is a professional software engineer with vast experience in a wide range of modern technologies. The author of numerous technical books, Cristian has mastered the complexities of ASP.NET, so you don't have to.
About Wyatt Barnett
Wyatt leads the in-house development team for a major industry trade association. When not slinging obscene amounts of C# and SQL at a few exceedingly large monitors, he is sharing his ASP.NET wisdom with others.
About Tim Posey
Tim Posey is a long-time developer and a passionate educator. Armed with a B.S. in Computer Science and an M.B.A. in Finance. He serves as a senior software engineer at a Fortune 1000 company and an Adjunct Professor of Finance for the American Public University System.
For more information about 'Build Your Own ASP.NET 4 Website Using C# & VB' http://www.sitepoint.com/launch/48441e
###