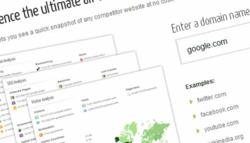 SiteTrail gives users an incredible amount of information about any domain or website...
Boston, MA (PRWEB) July 24, 2012
SiteTrail, Inc., a hot new web startup that connects webmasters to the latest information about their favorite websites and competitors has rapidly reached yet another major milestone. SiteTrail's comprehensive website analysis tool has been used over 300 million times to date by more than 30 million webmasters and other web enthusiasts.
"SiteTrail gives users an incredible amount of information about any domain or website," says Techie Buzz. The free tool provides users with the most comprehensive website reports with an ever growing list of 110+ different metrics about any given domain name or website in a single, intuitive user interface. "Just put in a website's URL and SiteTrail will show you tons of interesting and useful information about that site almost instantly," says Amit Agarwal, author and founder of Digital Inspiration.
Popular features of the SiteTrail website analysis tool include:

Social Media Analysis – From Facebook likes to the number of Reddit bookmarks, find out how well a site is perceived in the social media space.
SEO Analysis – Get a score of how well a site is optimized for popular search engines like Google and Bing.
Visitor Analysis – Check out the number of visitors a site receives. This data is obtained straight from popular web analytics services such as Alexa and Compete.
Traffic Analysis – Learn about a site's traffic patterns and how well it ranks amongst its 200+ million neighboring websites.
Revenue Analysis – Figure out how much ad revenue a site can generate taking the current economic conditions into account.
Content Analysis – Analyze the top keywords a site is using and determine other factors such as it's page speed.
Link Analysis – Learn more about what other websites a site is linking to and how much PageRank it passes to them.
Hosting Analysis – Find out which region a site is hosted in, it's IP address, and which web hosting company hosts it's servers.
WHOIS Analysis – Monitor a site's domain name, find out who it's registered to, when it expires and more.
Server Analysis – Learn what software a site was built with, how fast it's web pages load and the programming languages it uses.
Color Analysis – Get a quick snapshot of the top colors used on a site including respective hex codes and color densities.
Additional features include DNS record analysis, HTTP header analysis and much more. The plethora of information this tool provides makes SiteTrail the ultimate all-in-one website analysis tool. Click here to take SiteTrail out for a spin. It's completely free.
About SiteTrail, Inc:
Founded in 2010, SiteTrail is one of the top website analysis platforms and the most comprehensive source for breaking web 2.0 news on the web. SiteTrail helps web enthusiasts and online marketing professionals keep track of their favorite websites as well as their competitors. Reaching over 1.5 million unique visitors and serving more than 2 million pageviews per month, SiteTrail is a leading online media property. For more information about the company or to access the SiteTrail website analysis platform, visit SiteTrail.com.
Press Contact:
Kelly Norris
SiteTrail, Inc.
P: 707-901-7483
press(at)sitetrail(dot)com
sitetrail.com
###