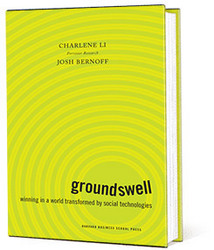 It is essential that companies define business objectives before blindly entering the social media arena. With the proper planning, research and measurement predefined, social media offers companies unparalleled opportunity to revolutionize consumer relationships and their brands as well
Tempe, AZ (PRWEB) August 20, 2008 -
Sitewire (http://www.sitewire.net), a full-service interactive marketing agency, announced this week that it will host social media expert Charlene Li as she speaks about the concepts in her bestselling book Groundswell. The event will take place on September 18th, 2008 from 8:30-11am at the Tempe Center for the Arts.
Charlene Li is a leading voice in social computing and Web 2.0 through her work over the past nine years with the respected technology and market research company Forrester Research. She was recently named one of AdAge's 2008 Women to Watch. Her book Groundswell features practical, consumer-based strategies for companies that want to harness the power of social technologies like blogs, social networks, and YouTube.
As the masses jump on the social media bandwagon, Sitewire emphasizes that brands look before they leap. "It is essential that companies define business objectives before blindly entering the social media arena. With the proper planning, research and measurement predefined, social media offers companies unparalleled opportunity to revolutionize consumer relationships and their brands as well," explains Sitewire Co-Founder Margie Traylor.
Li will address these points and more as she speaks about:

Strategies for surviving the groundswell
Social media best practices and pitfalls
How to get started
Register today for the Groundswell event. Space is limited.
About Sitewire
Sitewire is an interactive marketing agency focused on offering fascinating ideas meant to ensure that a client's business is performing as powerfully as possible. Sitewire's innovative search engine marketing, Web design and measurement experts use proven methods and proprietary technology to cost-effectively increase Web presence and most importantly, the bottom line. As one of The Business Journal's top-ranked advertising agencies, Sitewire is also a proud recipient of the Arizona Companies to Watch Award, FORTUNE Small Business Best Bosses Award and the Monster.com Spirit of Enterprise Award. Sitewire was recently named to the Inc. 5000 list of Fastest Growing Private Companies.
###