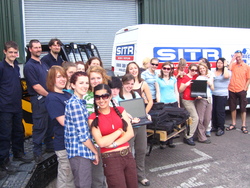 unlike money, we cannot borrow more rainforest when it's gone
(PRWeb UK) December 10, 2009
Specialising in the Secure Collection and Disposal of redundant IT Equipment, Secure IT Recycling Ltd (SITR) operate a nationwide collection service and are fully licensed by the Environmental Agency to collect, transport and recycle WEEE waste. First established in 2006, this expanding company is based in Cheshire, and works on the premise that no job is too big or small for the team of highly skilled experts to deal with. All of the customers are treated with the same care and level of service that has come to be expected from the company.
The dynamic company has in fact teamed up with the World Land Trust, enabling a percentage of the revenue collected goes to saving our threatened rainforests. With the issue of Climate Control and our collective Carbon Footprint becoming more and more of a concern. Fully aware that unlike money, we cannot borrow more rainforest when it's gone; by donating a percentage of the company's proceeds to The World Land Trust; Secure IT is pledging its support, while also increasing awareness for this crucial organisations.
For every order placed over £1,000, Secure IT will donate £25 required to protect half an acre of rainforest via the World Land Trust. In addition for every £100 generated by the collection of redundant IT equipment, the ground-breaking company will donate £1, and a cumulative total will be kept for all of the regular customers. To demonstrate this pledge each qualifying customer will receive a certificate from The World Land Trust, and will each have the satisfaction of knowing that they have helped save threatened wildlife habitat forever.
SITR also donate a number of its proceeds to funding research and projects throughout the world; by supporting Outlook expeditions who send groups of students around the world working on projects as diverse as building schools and helping with research on rhinoceroses. Thirty laptops have been sent around the world this year to help with education in third world countries.
The thriving company will continue annually to increase its support for these projects, helping with children's education both in the UK and abroad. In association with Education Business Plus, Secure IT provide the necessary work experience and apprenticeships to 15 year old students from schools within the Cheshire area and have been pleased to offer placements to numerous schools in the area. All the students have enjoyed their time with SITR, often commenting that "it's much better than being at school".
This conveys the extent of the importance on being part of a student's education, and that a good impression gained with Secure IT will help supply these students with a positive attitude towards work in the future.
Clients are also able to offset their Carbon Footprints with the help of Secure IT Recycling services by recycling a computer system properly will save a vast amount of CO2 emissions.
Secure IT Recycling Ltd list of services include computer disposal, it recycling, computer asset management, data destruction and hard drive destruction. All services are WEEE compliant, ensuring it is totally secure while also giving the utmost consideration to the environment.
There are only a few IT recycling companies nationwide that are licensed by the Environment Agency, in order to collect and more importantly process the client's redundant items. If they do not hold a full Waste Management Licence they cannot recycle your waste. This is just one of the aspects that set this innovative company apart from its competitors, as SITR continue to expand and move forward as a successful organisation.
Tel: 0800 037 7777
Email: it (at) sitr (dot) com
Web: http://www.sitr.com
###