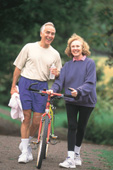 Going to gym or other exercise doesn't cancel out the negative health effects of prolonged sitting and an otherwise sedentary lifestyle.
San Francisco, CA (PRWEB) November 15, 2011
Researchers in the emerging medical field of sedentary behavior are finding that long periods of sitting may increase more than just your waistline: uninterrupted sitting may be an overlooked risk factor for cancer and other conditions associated with increased inflammation and insulin levels, regardless of regular exercise and body mass index. These and other findings were presented at the American Institute For Cancer Research's November 2011 Conference on Food, Nutrition, Physical Activity, and Cancer. PMS Comfort, an online holistic women's health organization that is educating and informing women about PMS and PMDD supports such research and believes healthy lifestyle is an essential component of women's health.
Contrary to most of what we've heard about exercise and health, it appears that going to gym a few times a week, or even exercising every day, does not cancel out the negative health effects of prolonged sitting and an otherwise sedentary lifestyle. TV-watching, computer time, sitting in cars, and sitting at work are all common culprits in the modern lifestyle that contribute to a sedentary lifestyle. Experts in the field are beginning to make recommendations that people with sedentary jobs and lifestyles interrupt prolonged sitting with at least 1-2 minute breaks of brisk activity, every hour or two.
Just one example of the published research confirming the health-physical activity question is the 2011 study in the American Journal of Epidemiology showing that people with ten years or more at a sedentary job had nearly twice the risk of some types of colon cancer and nearly 45% higher risk of rectal cancer compared to those with active jobs, or less time at sedentary jobs. The increased risk occurred in even the most recreationally active individuals.
Sedentary lifestyle and work is also being found to be associated with increased low-level inflammation as measured by the biomarker C-Reactive Protein. Inflammation has been associated with breast cancer, heart disease, diabetes and pre-diabetes, and Alzheimer's Disease.
A 2011 Canadian study published in the journal Cancer Prevention Research found that an exercise treatment in postmenopausal women lowered C-Reactive Protein, and it is believed this reduction would translate into reduced cancer and heart disease rates. Increased physical activity lowers the risk of cancer, heart disease, diabetes, and several pain syndromes.
PMS and PMDD are two conditions affecting women's health that can be helped with lifestyle changes including diet and increased physical activity. Both PMS and PMDD can be similar to clinical depression, and exercise can help relieve depression symptoms as well.
About:
PMS Comfort is an online women's health organization that is educating and empowering women with PMS and PMDD, and providing natural alternatives for the relief of premenstrual symptoms.
###