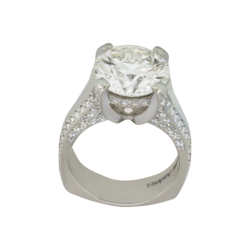 "I am extremely proud of this accomplishment as I continue to strive to create pieces of jewelry no one else in the world can offer." Pieter Andries Hye
Southlake, Texas (PRWEB) November 03, 2011
Pieter Andries, Creators of Fine Jewelry in Southlake, has designed a six carat diamond ring valued at $106,000. Crafted at its onsite fine jewelry workshop, the one-of-a-kind ring features a rare six carat diamond hand-selected by Pieter Andries, a certified gemologist appraiser and founder of the Southlake fine jewelry store, for maximum light performance and beauty.
According to Andries, only a few jewelry stores in the world offer a stone of this quality and size, making it an extremely rare piece of jewelry to own.
"My 40 years of experience in the fine jewelry business is what allowed me to create this very special ring," says Andries, whose Southlake, Texas custom jewelry store offers the area's largest selection of loose diamonds. "I am extremely proud of this accomplishment as I continue to strive to create pieces of jewelry no one else in the world can offer."
Featuring a center six carat diamond in a mounting specially designed to enhance the beauty of the stone, the ring is in a platinum setting with 104 diamonds encasing the ring band. The design process took three months to articulate the vision into a real piece of jewelry. The quality of every diamond is guaranteed through the Pieter Andries Diamond Grading Certificate. According to the certificate, the gem evaluation covers three factors: cut, color and clarity. With over 40 years experience, the Southlake jeweler has become a leader in quality designed, custom made diamond jewelry.
For more information about Pieter Andries, Creators of Fine Jewelry, call 800-233-3459 or go to http://www.pieterandries.com.
About Pieter Andries, Creators of Fine Jewelry
Whether it is a redesign or a dream about to become a reality, the creative design expertise that Pieter Andries has cultivated over 40 years, as a Master Goldsmith and American Gem Society Certified Gemologist, is reflected in each of his creations. Skilled professional craftsmen work under the direction of Pieter Andries utilizing state-of-the-art equipment and design technology to create a masterpiece of perfection and beauty – including diamond engagement rings, wedding bands and custom jewels. Offering the largest selection of rare, conflict-free diamonds in North Texas, Pieter Andries guarantees customer satisfaction of every piece of jewelry he creates. At Pieter Andries, it's all about YOU! For additional information, call (800) 233-3459 or go to http://www.pieterandries.com.
###