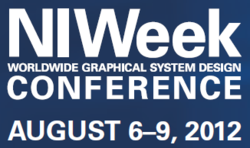 There is no better time spent in a year than we spend at NIWeek
Austin, Texas (PRWEB) July 12, 2012
Sixclear, an Austin-based LabVIEW instruction and development company, exhibits for the first time at NIWeek.
"There is no better time spent in a year than we spend at NIWeek," says Brian Spears, Sixclear Founder. "We get to meet with all our fellow LabVIEW junkies, swap stories and high fives, greet new and existing customers, and learn about new technologies and best practices in the industry."
Held August 6-9, NIWeek is National Instruments annual global conference on graphical system design, now in its eighteenth year. The conference brings an estimated attendance of 3000 from around the globe.
Sixclear, a National Instruments Alliance Partner, was founded 4 years ago and, while they've been attendees for the past 8 years, they will be exhibiting for the first time at the conference at booth 924.
"It's directly on the corner the cafeteria line snakes by. You can demo our e-learning LabVIEW training course in between hunger pains," Spears explains. "We'll have two laptops out front you can get your hands on, plus a big screen behind us looping course highlights."
Exhibiting this year gives Sixclear the opportunity to make a few announcements, among them a new website, updates to their online LabVIEW training course, and a couple beta products soon to be released.
Spears continues: "We want to meet you, and we're not above offering a free iPad -- or other tablet PC if you don't like the taste of an Apple -- if you drop by. Call it a free-market giveaway, we just call it marketing."
Last year, Sixclear published "Sixclear's 6 Tips for NIWeek 2011 Maximization". Spears explains that most of those recommendations still stand but gives the following updates:
1. Discounted LabVIEW certification is still available at the conference and Sixclear offers a new VI High CLAD prep blog post
2. Sixclear's activities during NIWeek will be broadcast at twitter.com/sixclear, and at facebook.com/Sixclear
"For any other recommendations, give us a call or email," Spears concludes. "We can't wait to meet you in the heart and heat of downtown Austin."
About Sixclear
Based in Austin, Texas, Sixclear is an engineering company offering LabVIEW courses, development, integration, and consulting in the automation, test, measurement, and data acquisition space. Sixclear has the only comprehensive, modern online/on-site LabVIEW training combination in the world.