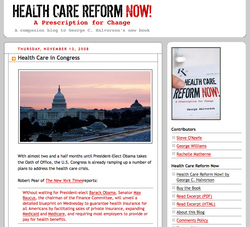 SixEstate has eliminated several problems that corporations and nonprofit organizations have with blogging.
New York, NY (PRWEB) December 22, 2009
SixEstate Communications (http://www.SixEstate.com), a NYC-based startup, plans to "change the way news is made," according to company founders David Reich and Steve O'Keefe. "We launch January 1st and we're already revenue-positive," says CEO David Reich. "We already have clients, and we're on a mission to reinvent how they share news with their target audience."
The company's flagship service is called Newsblogging. O'Keefe explains: "We work with professional journalists to cover the news for your organization. Whatever the cause, whether it's a ballot initiative, a new product launch, a fundraising campaign -- any issue you want a leading voice on -- we report every single workday on the news important to your audience. And within 30 days, your Newsblog rises to the top of search engines. Our Newsblogs generate authority and get market share."
O'Keefe is an "Internet pioneer," according to Wikipedia, and the author of several online marketing books. He has started and sold several companies, and is a professor of Internet Public Relations at Tulane University, where he met SixEstate co-founder David Reich. The two worked together at O'Keefe's PR firm perfecting Newsblogging -- a process for building top-rank blogs for private organizations.
SixEstate has eliminated several problems that corporations and nonprofit organizations have with blogging. "CEOs run companies, they often lack the time to blog," says O'Keefe. "But if you hire a ghostblogger, it's not transparent and is considered cheating by some people. Then there are problems with forward-looking statements -- or just stupid statements. Finally, there are quality issues. Posts benefit from copyediting, fact-checking, optimization, multimedia; you need to have copyright permission and credits. These steps take even more time."
A case history on the company's website showcases their work on the Health Care Reform Now Blog for health care giant Kaiser Permanente. The company maintained a top position on Google Blog Search for "health care reform" the entire year leading up to Obama's election.
"We have a tighter set of standards than many news organizations," claims Reich, who credits SixEstate's team approach, which involves a professional journalist, an editor and an optimizer. "Our Newsblogs' search engine rankings show that consumers agree. Our clients are rewarded with a high-visibility platform to showcase their mission, products and services."
So where does SixEstate find all these professional Newsblogging journalists? O'Keefe smiles, "We hire the poor folks who got sacked from newspapers and magazines."
For more information on SixEstate Communications, or to schedule an interview with founders David Reich or Steve O'Keefe, please contact (646) 415-7507.
###