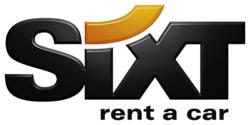 Sixt is constantly working to improve its apps further so that the company can deliver the best in functionality and convenience to its customers.
Fort Lauderdale, FL (PRWEB) September 19, 2012
Sixt, Germany's number one car rental company, has extended its smartphone application for the Android operating platform. The updated app features a wide range of functional new options that make booking rental cars even easier and more flexible, regardless of where customers are located or when they want to book. The expanded app provides customers with access to Sixt car rentals in over 100 countries around the world, and it is available from the Google Play store.
With the new app, customers can use QR codes to pick up their rental car at selected branches in many European countries. When customers complete a booking, the system sends the QR code straight to their smartphone, which they can then simply present for scanning at the counter of the rental pick-up location. This new system does away with conventional paperwork and formalities, allowing customers to get the key to their rental car as quickly and conveniently as possible.
Booking a car rental is not the sole feature of the new app; customers can use it in many other ways as well. One option for customers is to make use of prepaid rental rates that offer an exceptionally good value. Additionally, the app features a range of filters that make it even easier for customers to locate the particular car they want to rent.
Customers can also use the improved Android smartphone app for quick, uncomplicated management of their car reservations. When customers log in to their accounts on the app, they will also have access to a history of their past rentals. The new app also features familiar services, such as directions to the specified rental location, along with the use of flexible rental car rates and prices that are part of the Sixt Express Card and Sixt Corporate Card packages.
The new Android app is available in English, German, French, Spanish, Italian, Greek, Polish, Swedish, Czech, Hungarian, Turkish, and Hebrew, providing millions of people around the world with the ability to understand and use the new app. Interested customers should visit the Google Play store to download the updated Sixt app to their Android smartphones.
Sixt has an array of apps designed for all widely-used mobile devices and operating systems, such as iPhone, iPad, Blackberry, Bada, WebOS, and Windows Phone 7, ensuring that the Sixt apps are available to as many people as possible. Sixt is constantly working to improve its apps further so that the company can deliver the best in functionality and convenience to its customers.
In addition to using the smartphone app, Sixt customers can rent a car online at Sixt's website. Interested customers in the United States can also contact Stephanie Woelfel, key account manager for sales & marketing for Sixt USA, at 1-888-522-8462, or visit one of Sixt's current US locations: Fort Lauderdale, Miami, Orlando, Palm Beach, and West Palm Beach, Florida; and Atlanta, Georgia.
About Sixt
Sixt AG, with its registered office in Pullach, Germany, near Munich, is an international provider of integrated mobility services. Founded in 1912, the company has been family managed for 100 years. Together with its franchisees and partners, Sixt has over 4,500 locations and is represented in more than 100 countries. Sixt is the market leader for car rentals in Germany and Austria, and the company currently operates six rental locations in the United States. For further information, please refer to http://www.Sixt.com.