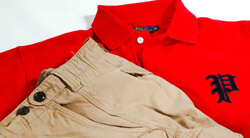 The Ralph Lauren polo shirt is, of course, a timeless piece, and because these versions are specifically tailored for big or tall men, it means that men of all sizes and shapes can enjoy a flattering fit
(PRWEB UK) 4 June 2015
SizeBase Clothing, the specialist online retailer for larger men's clothing, are pleased to be able to offer the Ralph Lauren Big & Tall range to their customers. This popular range, which naturally includes the iconic polo shirt, is specifically tailored in both big men's sizes and tall men's sizes, ensuring a flattering fit for any shape.
The addition of the Ralph Lauren Big & Tall range complements the existing stock on the SizeBase website, with a selection of Ralph Lauren shirts, t-shirts, shorts and swimwear already available on the site, and further items including jeans expected soon. As with all items on the site, the SizeBase team have hand-measured all the new stock to provide uniquely detailed size charts, ensuring that their customers can shop from the comfort of their own home and still enjoy a perfect fit.
A spokesperson for SizeBase said: "We're very excited to be able to offer the Ralph Lauren Big & Tall range, as it is an iconic brand that many of our customers will love to wear. The Ralph Lauren polo shirt is, of course, a timeless piece, and because these versions are specifically tailored for big or tall men, it means that men of all sizes and shapes can enjoy a flattering fit, just in time for summer."
SizeBase Ltd are a specialist clothing retailer for big and tall men, offering a wide range of clothing tailored to meet their customers' needs. With a wide range of top brands including Weird Fish, Raging Bull, Ralph Lauren, Double Two and many more, they are able to offer casual, formal and business wear to suit any occasion. To ensure the perfect fit, they hand-measure all stock and provide item-specific size charts to take the unpredictability out of online clothes shopping.
For more information on SizeBase, or to shop their range of Ralph Lauren Big & Tall clothing, visit their website at http://www.sizebaseclothing.co.uk.