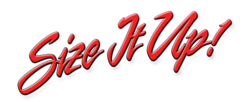 New York, NY (PRWEB) April 15, 2013
Last week, SizeItUp officially announced their integration of the fitment data for the 2012 Kia Rio. The redesigned Rio adds to the illustrious lists of vehicle model updates made by SizeItUp for 2013.
Although the Kia Rio has not been the most popular economy car in the past, the 2012 model holds new promise as it has been improved from virtually every aspect. It sports a bold new look and offers both sedan and hatchback body styles. All the trim options include a 1.6-liter four-cylinder engine rated at 138 hp and 123 pound-feet of torque. The LX trim model is powered by a six-speed manual transmission with a six-speed automatic optional. Both the EX and SX, however, come only with the six-speed automatic.
Despite being an economy car, the 2012 Kia Rio houses a very inviting interior, utilizing a very tasteful hard plastic trim. The plastic is also nicely grained, and the combination of a soft-touch dash top, sliding center armrest, and tasteful metallic accents give the 2012 Rio the look of a luxury car. Safety features include antilock disc brakes, stability and traction control, front-seat side, and side-curtain airbags and hill start assist.
Given the recommendations the 2012 Kia Rio has received from auto review sites for being an ideal economy car, SizeItUp thought that the demand for the model's fitment data is going to increase. As market popularity for the 2012 Rio increases, more and more customers are going to start looking for rim upgrade options online. SizeItUp help clients, stays one step ahead, by upgrading their fitment database. Online rim stores subscribing to the SizeItUp solution can now easily provide fitment information for the 2012 Kia Rio.
About SizeItUp:
Sizeitup [http://www.sizeitup.com is for companies who are dissatisfied with their wheel and tire fitment guide. Unlike, other fitment guides, Sizeitup offers an ACES compliant fitment guide that will work with eBay and Amazon. We have reached over 20,000 vehicle applications for wheel and tire fitment data. From single fitments to staggered fitments, dually fitments, and lifted truck applications, Sizeitup has the largest and most accurate application guide on the market. By continuing to update our database for new releases every year, we have extended our database to include the make and model of every vehicle made since 1960.