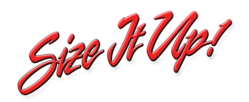 New York, NY (PRWEB) March 29, 2013
Last week, SizItUp officially announced of their integration of the 2012 Volkswagen Golf R. Their fitment application guide has been updated to include the latest vehicle models.
The 2012 Volkswagen Golf R has undergone some elegant upgrades when compared to the past GTI models. Under the hood, the Golf R comes standard with a 2.0-liter turbocharged four-cylinder engine rated at 256 hp and 243 lb-Ft of torque. Though the 2012 Golf R is a performance car by name, it is also respectably fuel-efficient. It comes with a six-speed manual transmission, and an all-wheel drive.
The 2012 Volkswagen Golf R hatchback houses a very luxurious interior, ideal for intense driving, or casual cruising. The Golf R is offered as a two-door or four-door. Standard features include adaptive xenon headlights, heated mirrors, top quality leather upholstery, and 18-inch wheels.
The last feature should describe size it up's eagerness to integrate the latest vehicles. The launch of new models mean that people are going to buy rims for those cars online, and rim vendors need to be able to offer the fitment information via their website. Popular models like the 2012 Volkswagen Golf R are going to attract car buyers because of its performance, sporty interior, and standard safety features.
SizeItUp is the sole provider of an ACES compliant fitment database solution, and hence it is very important they stay up to date with the latest releases.
About SizeItUp:
Sizeitup is for companies who are dissatisfied with their wheel and tire fitment guide. Sizeitup is a wheel and tire fitment data provider that can power your fitment data for your electronic catalog or website. Unlike, other fitment guides, Sizeitup offers an ACES compliant fitment guide that will work with eBay and Amazon. We have reached over 20,000 vehicle applications for wheel and tire fitment data. From single fitments to staggered fitments, dually fitments, and lifted truck applications, size it up has the largest and most accurate application guide on the market.