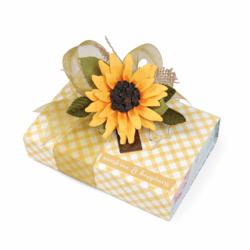 "I'm so thrilled to partner with Sizzix and bring crafters a new approach to crafting detailed flowers into lovely keepsakes," said Susan Tierney-Cockburn.
Lake Forest, Calif. (PRWEB) May 01, 2013
Cultivating exquisite floral crafts designs is now simplified by the Susan's Garden collection of die cutting and embossing products for Sizzix®. The much anticipated collection works especially well when combined with Sizzix's Big Shot™ die cutting machine.
From the green thumb of Susan Tierney-Cockburn™, these floral-inspired designs include a wide variety of natural-looking flowers such as Hibiscus, Dogwood, Black-Eyed Susan and Flowering Quince. Among the other highlights are a 3-D Birdhouse, a Wheelbarrow and a fanciful Moveable Garden Fairy from a delightful assortment of steel-rule Bigz™ dies and chemical-etched Thinlits™ and Framelits™ with coordinating stamps.
Crafters can add another level of embellishment to their papercrafting projects with complementing Textured Impressions™ Embossing Folders sets to enhance their garden, along with Plastic Flower Pots, Plastic Flower Domes and Tool Kit accessories.
"I'm so thrilled to partner with Sizzix and bring crafters a new approach to crafting detailed flowers into lovely keepsakes," said Tierney-Cockburn. "My garden-inspired collection is perfect for floral enthusiasts and is a must-have for Spring!"
The wafer-thin, chemically-etched Thinlits and Framelits easily cut thinner material such as cardstock, paper, metallic foil or vellum, while steel-rule Bigz dies provide precise, clean cuts on heavyweight, smooth cardstock for beautiful results. Susan's Garden products are compatible with the Sizzix Big Shot, Big Shot Pro, BIGkick™ and Vagabond™ machines.
"Susan's unique line allows crafters of any level to fashion realistic flowers that are easy to assemble," said Cara Mariano, Art Director for Sizzix. "Crafters will be amazed at how simple designing different floral varieties can be!"
The Susan's Garden collection by Susan Tierney-Cockburn is now available in stores around the country, including local craft boutiques and major retail craft chains. For more information on Susan's Garden, please visit Sizzix.com.
About Susan Tierney-Cockburn
Susan has taken a lifetime of creative experiences and turned them into a full-time passion. Whether it's gardening, painting, baking, and, of course, crafting, she has done it all in her own unmistakable style. Loving to share this information with others, she has taught cake decorating and bread baking and she blogs weekly about the subject. Her stamping and papercrafts – with a special emphasis on making realistic paper flowers – have lead to designing for publications and writing books. Susan teams with Sizzix for a charming crop of products to create incredible floral designs for embellishing cards, scrapbooks or any other craft project. Discover more about Susan Tierney-Cockburn.
About Sizzix
Launched in 2001, Sizzix is a division of Ellison Educational Equipment Inc., the market pioneer and leader of die cutting machines and accessories. Through its portfolio of die cutting machines and die cutting products, Sizzix leverages Ellison's 36 years of proven manufacturing and technology heritage to empower creativity among its customer base with new and innovative products. Sizzix is a recognized global brand that can be found in over 100 countries and in major and specialty retailers. For more information on Sizzix and its line of craft-inspiring products, please visit http://www.Sizzix.com/home.