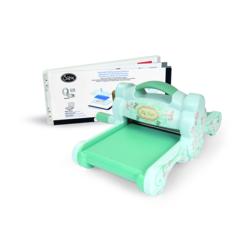 Lake Forest, Calif. (PRWEB) May 06, 2013
Sizzix®, the crafts market pioneer and leader in die cutting machines, steel-rule dies and accessories, is proud to announce that its new-look, all-in-one Big Shot™ die cutting machine will be featured on Lifetime Television's The Balancing Act on Tuesday, May 21 starting at 7 a.m. (ET/PT).
As the industry's pioneer in empowering custom craft creations, Sizzix will showcase its latest version of the Big Shot die cutting machine with the first-ever Extended Multipurpose Platform on Lifetime TV's premiere morning show hosted by celebrity personality Julie Moran. Included with the new-look Big Shot, the new platform creates instant compatibility with the entire library of Sizzix embossing tools and chemically-etched dies.
The segment will highlight the Big Shot's versatility, showing how crafters can fashion a wide assortment of projects with precision and ease. From cardmaking, entertaining and home décor to jewelry, quilting, scrapbooking and more, the Big Shot is one craft companion consumers are sure to love.
For more information about The Balancing Act, please visit TheBalancingAct.com.
About Sizzix
Launched in 2001, Sizzix is a division of Ellison Education Equipment, Inc., the market pioneer and leader of die cutting machines and accessories. Through its portfolio of die cutting machines and die cutting products, Sizzix leverages Ellison's 35 years of proven manufacturing and technology heritage to empower creativity among its customer base with new and innovative products. Sizzix is a recognized global brand that can be found in over 100 countries and in major and specialty retailers. For more information on Sizzix and its line of craft-inspiring products, please visit http://www.Sizzix.com/home.
# # #