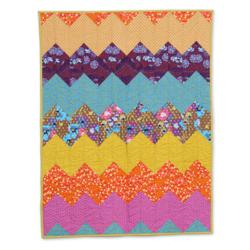 "Our newest design additions build upon our pattern-driven library of quilt and appliqué dies," said Linda Nitzen, Sales and Marketing Quilting Manager for Sizzix. "Consumers will love the precise cuts from our impressive selection of dies."
LAKE FOREST, Calif. (PRWEB) May 21, 2013
Perfect cuts create perfect quilts, thanks to the newest release of Sizzix® Bigz™ quilting and appliqué dies for the arts and crafts market. The 31 latest designs for its Big Shot™ and Big Shot Pro die cutting machines debuted for retailers and designers alike at the International Quilt Market Spring 2013 Show at the Oregon Convention Center, May 17-19 in Portland, Ore.
Among the highlights of the 20 Sizzix Bigz and 11 Bigz Pro dies are designs of a Celtic Border, Chevron, Diamond, Pineapple, Rick-Rack and Wedding Ring patterns, perfect for quilting and craft projects. Five geometric designs from the Missouri Star Quilt Company, including a 10" Dresden Plate and a 5" Half Hexagon, complete the collection.
Encased in plastic, steel-rule Bigz dies cut up to 8 layers of fabric with precision and ease, and are available in six sizes including standard, L, XL, XL 25", Pro and Pro 25" dies (Pro dies are exclusively for the Big Shot Pro Machine).
"Our newest design additions build upon our pattern-driven library of quilt and appliqué dies," said Linda Nitzen, Sales and Marketing Quilting Manager for Sizzix. "Consumers will love the precise cuts from our impressive selection of dies."
The latest releases of Sizzix Quilting & Appliqué dies are now available in quilt stores around the country. For more information, visit Sizzix.com.
About Sizzix
Launched in 2001, Sizzix is a division of Ellison Educational Equipment Inc., the market pioneer and leader of die-cutting machines and accessories. Through its portfolio of die-cutting machines and die-cutting products, Sizzix leverages Ellison's 36 years of proven manufacturing and technology heritage to empower creativity among its customer base with new and innovative products. Sizzix is a recognized global brand that can be found in over 100 countries and in major and specialty retailers. For more information on Sizzix and its line of craft-inspiring products, please visit http://www.Sizzix.com/home.