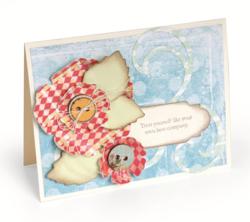 LAKE FOREST, Calif. (PRWEB) May 29, 2013
Sizzix®, the arts and crafts market pioneer and leader in die cutting machines, steel-rule dies and accessories, is pleased to announce the debut die collection from leading floral embellishment brand, Prima Marketing Inc.®, for the Big Shot™ die cutting machine.
Vintage-inspired, charming Bigz™ and Sizzlits® Decorative Strip dies bring flower-powered embellishments to bloom in Flora Grande fashion. The newest floral offerings empower creative consumers to craft sophisticated die cut creations for their next cardmaking, scrapbooking, home décor or mixed media projects.
The Flora Grande collection by Prima Marketing Inc. will be available in stores around the country, including local craft boutiques and major retail craft chains in June. For more information, visit Sizzix.com.
About Prima Marketing Inc.
As scrapbooking evolves and changes into an exciting art form, Prima, the established leader in flower embellishments, always offers the most exciting and innovative floral-themed products to craft retailers worldwide. Together with Sizzix, this company introduces artisans and crafters alike to the newest and most original styles for scrapbook embellishments. Discover many powerful possibilities from Prima Marketing Inc.
About Sizzix
Launched in 2001, Sizzix is a division of Ellison Education Equipment, Inc., the market pioneer and leader of die cutting machines and accessories. Through its portfolio of die cutting machines and die cutting products, Sizzix leverages Ellison's 36 years of proven manufacturing and technology heritage to empower creativity among its customer base with new and innovative products. Sizzix is a recognized global brand that can be found in over 100 countries and in major and specialty retailers. For more information on Sizzix and its line of craft-inspiring products, please visit http://www.Sizzix.com/home.
# # #