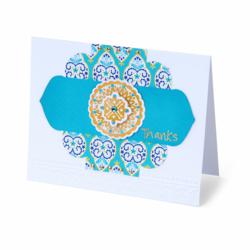 LAKE FOREST, Calif. (PRWEB) June 19, 2013
Sizzix®, the arts and crafts market pioneer and leader in die cutting machines, steel-rule dies and accessories, is pleased to announce the latest offerings by Dena Designs for the Big Shot™ die cutting machine.
Decadent and exotic, the Moroccan collection by Dena Designs™ features a vibrant assortment of Framelits™, Sizzlits® and Bigz™ dies. Two sets of Textured Impressions™ Embossing Folders add rich, distinctive textures, and an array of coordinating products to create elegant embellishments for cardmaking, mixed media and scrapbooking projects.
The Moroccan collection by Dena Designs will be available in stores around the country, including local craft boutiques and major retail craft chains in July. For more information, visit Sizzix.com.
About Dena Designs
"Embellish your life" is Dena's motto, and her products, books and media exposure have reached a legion of fans that value friendship, home, family and self-expression. As President and Creative Director of Dena Designs, Inc., Dena has beautifully juggled the roles of designer, businesswoman and mom while crafting a hugely successful company, lifestyle brand and wide array of products, ranging from home décor and accessories to greeting cards, gifts, craft items, books and more. What began 20 years ago as a Bloomingdale's best-selling bedding collection is now a merchandising/media program generating multi-millions in worldwide sales. Learn more at DenaDesigns.com.
About Sizzix
Launched in 2001, Sizzix is a division of Ellison Educational Equipment Inc., the market pioneer and leader of die cutting machines and accessories. Through its portfolio of die cutting machines and die cutting products, Sizzix leverages Ellison's 36 years of proven manufacturing and technology heritage to empower creativity among its customer base with new and innovative products. Sizzix is a recognized global brand that can be found in over 100 countries and in major and specialty retailers. For more information on Sizzix and its line of craft-inspiring products, please visit http://www.Sizzix.com/home.
# # #