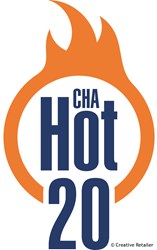 "It's an extreme honor for the new product line we've created to be recognized as 'one of the most creative crafting products of 2014'," said Marisa Pawelko, Licensed Designer for Sizzix.
Lake Forest, Calif. (PRWEB) February 12, 2014
Sizzix®, the arts and crafts market pioneer and leader in die cutting machines, steel-rule dies and accessories, is pleased to announce that its new Modern Surrealist® die cutting collection from celebrity crafter Marisa Pawelko, has been selected as a Hot 20 winner by the Crafts and Hobby Association.
Chosen from the products submitted to the CHA 2014 New Products Showcase, the collection was chosen by a panel of media judges who selected the top innovative products, as showcased at the CHA 2014 Mega Show in Anaheim, Calif.
"We are ecstatic that CHA chose to recognize the vibrancy that Marisa's debut product collection brings to the craft market," said Denzil Quick, Director of Product Development for Sizzix. "The unique designs from the Modern Surrealist collection present a youthful, fun motif that crafters can gravitate toward."
Eclectic sneakers, zippers, sunglasses and talking bubbles highlight the inspiring collection of 20 steel-rule Originals™ dies that cut a wide variety of materials that scissors can cut. Crafters will especially enjoy the ability to cut duct tape to create standout DIY jewelry, home décor, fashion accessories and more.
"I am beyond excited that the Modern Surrealist line of Sizzix steel-rule dies was awarded the Craft & Hobby Association's prestigious Hot 20 Award!" said Pawelko. "It's an extreme honor for the new product line we've created to be recognized as 'one of the most creative crafting products of 2014'," she added.
The Modern Surrealist collection will be available in local craft boutiques and major retail craft chains in June. For more information, visit Sizzix.com.
About Marisa Pawelko
Her award-winning designs have impacted the world's top brands. Her unique style has been featured on numerous TV shows and in magazines. Marisa Pawelko is everything from a craft author and industry spokesperson to a trendsetter and sought-after personality. Now Marisa brings her unique enthusiasm to Sizzix steel-rule dies for one-of-a-kind jewelry, fashion, locker art, home décor and more.
About Sizzix
Launched in 2001, Sizzix is a division of Ellison Educational Equipment Inc., the market pioneer and leader of die cutting machines and accessories. Through its portfolio of die cutting machines and die cutting products, Sizzix leverages Ellison's 36 years of proven manufacturing and technology heritage to empower creativity among its customer base with new and innovative products. Sizzix is a recognized global brand that can be found in over 100 countries and in major and specialty retailers. For more information on Sizzix and its line of craft-inspiring products, please visit http://www.Sizzix.com/home.
# # #