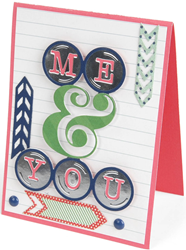 LAKE FOREST, Calif. (PRWEB) October 29, 2014
Crafters can soon incorporate some of the hottest design trends into their next do-it-yourself project using the Me & You collection from Sizzix® for its family of die-cutting machines.
Embracing consumer desire for versatility and value, Sizzix designer Jen Long presents 12 wafer-thin, chemically-etched Thinlits™ die sets in such ornate shapes as arrows, butterflies, chevrons and hearts for use in an assortment of papercrafting projects.
The Me & You collection will be available in stores around the country, including local craft boutiques and major retail craft chains in November. For more information, visit http://www.Sizzix.com/home.
About Sizzix
Launched in 2001, Sizzix is a division of Ellison Educational Equipment Inc., the market pioneer and leader of die-cutting machines and accessories. Through its portfolio of die-cutting machines and die-cutting products, Sizzix leverages Ellison's 37 years of proven manufacturing and technology heritage to empower creativity among its customer base with new and innovative products. Sizzix is a recognized global brand that can be found in over 100 countries and in major and specialty retailers. For more information on Sizzix and its line of craft-inspiring products, please visit http://www.Sizzix.com/home.
# # #