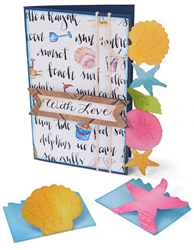 "The beach is everyone's happy place—relaxing, carefree and full of celebration," said Sharyn Sowell, Licensed Designer for Sizzix. "The products in my new collection are perfect for parties and home décor projects that are as easy as a day on the beach."
LAKE FOREST, Calif. (PRWEB) May 18, 2015
Empowering crafters to fashion the same graceful designs that a pair of tiny scissors can cut, Sharyn Sowell presents her debut die-cutting, embossing and stamping collection for Sizzix® and its family of die-cutting machines.
Renowned for her ability to snip amazing paper designs by hand, Sowell's Beach product collection offers consumers 18 versatile products that can be used to inspire all year-round.
"The beach is everyone's happy place—relaxing, carefree and full of celebration," Sowell said. "The products in my new collection are perfect for parties and home décor projects that are as easy as a day on the beach."
Seahorses, seashells, starfish and wave designs create boxes, cards, lanterns, oceanic shapes, napkin rings and pinwheels from an assortment of steel-rule Bigz™, Bigz L, Bigz XL and Originals™ dies for serene party décor. Three Thinlits™ die sets embrace scenic beach life, while two Framelits™ die sets with stamps cut banners and sea animals with accompanying sentiments. Album and label embellishment designs are offered in a Movers & Shapers™ die and two Movers & Shapes magnetic insert die sets. Two Textured Impressions™ Embossing Folders add rich, earthy textures to papercrafting projects.
"Our newest collection allows crafters to create an array of beautiful, handmade projects that capture the handmade feel that Sharyn's designs are best known for," said Cara Mariano, Art Director for Sizzix.
The Beach collection by Sharyn Sowell is now available in local craft boutiques and major retail craft chains. For more information, visit http://www.sizzix.com/home.
About Sharyn Sowell
Mixed-media artist, Sharyn Sowell is a true artisan who combines her hand-cut paper creations with watercolor, calligraphy and typography. Sharyn designs everything from home décor and garden products to giftware, fabric, stationery products and more. She's designed for an impressive list of companies, including Hallmark®, Creative Converting™, and York Wallcoverings®. Author or two popular crafts books, Sharyn has won multiple Louie Awards, the Oscar of the greeting card industry. Sharyn's original art can be seen in the British National Portrait Gallery, Children's Hospital Los Angeles and the Orlando Waldorf Astoria. Now, her beloved art is available as Sizzix eshape Store downloadable files and as Sizzix dies and embossing folders.
About Sizzix
Launched in 2001, Sizzix is a division of Ellison Educational Equipment Inc., the market pioneer and leader of die-cutting machines and accessories. Through its portfolio of die-cutting machines and die-cutting products, Sizzix leverages Ellison's 38 years of proven manufacturing and technology heritage to empower creativity among its customer base with new and innovative products. Sizzix is a recognized global brand that can be found in over 100 countries and in major and specialty retailers. For more information on Sizzix and its line of craft-inspiring products, please visit http://www.sizzix.com/home.
# # #