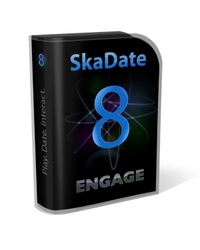 The new version is all about stability and feature enhancement. It's built on the platform that is well-tested and polished up
Salem OR, USA (PRWEB) October 12, 2010
Skalfa LLC is pleased to announce launching a major release of one of the most advanced dating software - SkaDate 8 Engage. The new version is mainly interactive feature-oriented, but also includes site administration and user interface improvements.
SkaDate Engage is a step towards entertaining online dating technologies, which is a new industry trend. SkaDate 8 Engage features single- and multiplayer games and speed-dating functionality that is based on regular text or audio/video private chat. Both features can be configured to be membership-dependent, thus being another great tool to encourage subscriptions.
"It's all about retaining users," says Emil Sarnogoev, Skalfa LLC CEO. "You can't achieve community goals unless people are able to interact in a meaningful way. Can you host a successful party when people don't talk to each other and leave within 10 minutes?"
SkaDate Dating Script customers will also find a few improvements streamlining site management and configuration process. Converting a dating/community site into a social network has become a matter of a few simple clicks - one can disable dating site features in a special section in Administration Panel involving no code customization. Another usability improvement is the possibility to customize the MemberHome page via the Administration Panel interface. A simplified component-based page source allows to add/delete/move the MemberHome components and edit HTML and styles without having to go through a number of software files.
"We believe that simplicity makes good software," says Denis Zhuikov, COO at Skalfa LLC. "Our common goal here at Skalfa is developing a product that would be feature-rich, competitive and easy to manage. SkaDate Engage is just that - stable and user-friendly."
SkaDate 8 Engage comes with two new community and dating templates: "Bubbles", which is particularly good for a dating concept, and "Moonlight" being a perfect choice for a social/business network.
Besides new features SkaDate Engage can boast a stable core that did not undergo global changes, and is basically a SkaDate 7.5 platform with major and minor bugs eliminated and performance issues resolved. This makes SkaDate 8 Engage a stable and robust software solution for dating and community sites.
"The new version is all about stability and feature enhancement. It's built on the platform that is well-tested and polished up," says Nurlan Dzhumakaliev, Skalfa LLC CTO. "SkaDate 8 is perfectly compatible with the older version, which makes upgrade process hassle-free for our customers. And its main advantage is skipping the stage of scaling bottlenecks common for platforms written from scratch."
Feel free to check out these features and other improvements at the Live Demo of SkaDate Dating Script, and ask your questions in Live Pre-Sale Chat 24/7 on SkaDate Dating Script Web Site.
###