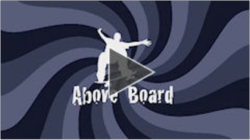 iCan Get It sales technology ...allows product placement items to be selected, ...and even purchased, while viewers are watching the show!
Marin County, Ca (PRWEB) June 08, 2011
iNet Entertainment announced release of a new internet video show entitled AboveBoard. AboveBoard is a skateboarding themed series that is targeted to an action sports teen and early twenty year old demographic.
"This is not going to be an ordinary show." stated Joe Bencharsky, iNE's Chief Marketing Officer, " We are doing some revolutionary things with it. Primarily, it will be the premier project featuring our iCan Get It sales technology that allows product placement items to be selected, information presented about them, and even purchased, while viewers are watching the show. For the first time, consumers can get instant information on products without the necessity of disruptive commercials, and even buy something they like, at the moment they see it in a show!"
iCan Get It will also allow viewers to recommend or share products via social media or email.
The show will be promoted solely via digital media: video email promotion, select special interest portals, and social media channels. "We are anticipating an initial distribution of video emails to over 600,000 opted-in recipients. With the combination of email, sharing and social media, we anticipate the viewership will continue to grow over time, and as new episodes bring in more viewers rather than decline after an initial broadcast." Bencharsky elaborated.
iNet Entertainment's goal is to create the ultimate in viewer controlled advertising. Interactive video that allows the viewer to pause when and if they like, or control what products they have an interest in.
"No commercials. No pop-up ads. No banner ads. Sponsors promote brand loyalty and get direct sales from the show; non-profits benefit from the show; viewers get quality entertainment from interactive video and can buy, share and get information about products if and when they want it. It's a win-win-win-WIN enterprise" said Gene Berman, President of iNet Entertainment.
The effectiveness of media advertising has largely been guesswork in the past. This model will show direct sales numbers associated with brand participation.
For the first episode Children's Hospital Foundation and Girls Riders Organization, a group that educates and promotes girl's participation in action sports; will be the beneficiaries of a share of the sales generated by the show. The sponsors for the first episode for AboveBoard will include: Empowered Clothing, FreeSkate skate products, Goorin Hats, HeavyGlare eyewear, XSports protective gear, and Ghetto Star skateboards.
This "holy grail" of technology for broadcast media will be available on computer, interactive TV simultaneously and 24/7 once the show is released.
The AboveBoard series themes will be positive messages about how skateboarding impacts lives and provides an outlet for personal expression and freedom. Subsequent episodes will be released every month at http://aboveboard.inetentertainment.com
###