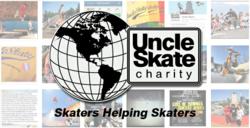 501(c)(3) charity status helps our donors when giving.
Scottsdale, AZ (PRWEB) February 28, 2013
Uncle Skate Charity is proud to announce it is now officially a public charity with tax-exempt status under Section 501(c)(3) of the United States Internal Revenue Code. Donations & Contributions donated to Uncle Skate Charity are fully tax-deductible. In addition to tax-exempt Uncle Skate Charity is also now eligible to apply for government and foundation grants, which will further broaden its access to resources and strengthen its ability to serve children worldwide.
Apart from being 501(c)(3) exempt, 2013 will be a very exciting year for Uncle Skate Charity. This February team rider Rad Pinckard took 1st place at the Grand Canyon State Games in Queen Queek, Arizona at AZ Grind Skatepark. Pinckard will be joining fellow Uncle Skate team mate Trey Wood at the Vans Am Combi Contest in Orange, California on March 2nd & 3rd. Both skaters will have a very competitive 2013. In August Wood will be traveling to Brazil competing for Megaramp and also in March for the qualifiers for the Summer X-Games in Los Angeles. Pinckard will be actively competing in the World Cup of Skatboarding all year and is currently ranked 9th going into 2013 for Am 15 and under.
"We are about as excited as you can get with all this positive news so early in the year, the widespread coverage promotes our mission statement to help skateboarders all over the world." -- Mathew Nobert - Uncle Skate Charity Board of Directors
Uncle Skate Charity is a non-profit foundation for skateboarders and their mission is to donate free skateboards to children around the world by connecting to the world by the use of global contributions of equipment and skateboards. They help people both young adults and children to realize their potential and help build their future. This charity created a sense of awareness especially to those less fortunate all over the world and they have developed vital components that can provide lasting and direct effect on young people lives.
###
For more information about "Uncle Skate Charity 501 – C3 Status", visit their website at http://www.uncleskate.org or send them an email at info(at)uncleskate(dot)org.