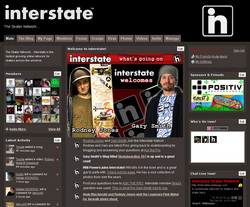 When Rowe first brought this project to our attention, our first reaction was to question the need for another online skate property
Baltimore, MD (PRWEB) March 3, 2008
Interstate Universal, a Baltimore based actions sports media production company announced today the launch of a worldwide online initiative to offer skateboarders across the globe the opportunity to interact and share their love of skateboarding.
The website (http://www.interstateMag.com) features the latest in skate news, contest results, video and equipment reviews and skating commentary from around the globe. The accompanying social network, interstateNation (http://www.interstateNation.com), allows skaters and skate fans to express themselves and share the ideas that bring them together. Members of interstate can build personal profile pages, interact with skaters worldwide through live chat and discussion forums, and post music, videos, photos, and blog entries regarding any skate topic they choose.
The Interstate sites incorporate all disciplines of skateboarding and actively promote the creation of skater art, music, and photography through user generated content areas and monthly contests and promotions.
"It doesn't matter whether you are a street skater in NYC, a bowl skater in Southern California, a longboarder from New Zealand or a skate photographer living in Tokyo, you are still a member of the skater community and our plan is to give skaters and skate fans all over the world a platform to meet, interact, and share ideas," said Thomas Rowe, co-founder of Interstate Universal and a lifelong skater.
"Skating gave me a better childhood, taught me life lessons, and allowed me to meet some of my best friends in life", said Rowe, who grew up in Baltimore and skated alongside the likes of eventual pros Bucky Lasek, Brandon Novak, Rodney Jones, and Gary Smith. "Over the years, I've watched some of our friends that became pro giving so much back to the skating world and admired their efforts. That's why our primary goals with interstate will be to promote skating, bring skaters together, and teach the world all that's good about skating."
Since beta launching in October, the social network has welcomed over 3,000 worldwide members and has made arrangements with a number of pro skaters and skate industry insiders to contribute editorial, commentary and answer member questions through interstate's "ASK the PRO" section.
The sites also feature real-time chat, personal profile pages, an active member discussion area and monthly promotions and contests.
"When Rowe first brought this project to our attention, our first reaction was to question the need for another online skate property," said Spiro Alafassos, president of TheSpiroGroup who is providing interstate with development and marketing assistance. "Then Rowe proceeded to show me news stories and documentaries featuring skaters from all corners of the earth and pleaded his case that there was nothing 'out there' that could bring these kids together and allow them to learn about their skating brethren across the globe. That was enough to get us to sign on and assist in this worldwide movement to unify skaters and showcase different cultures through the world's fastest growing sport."
Besides the skater website and social network, Interstate Universal plans to launch a number of skate initiatives in 2008 including an emerging skater program that will help promote up-and-coming skaters, a contest series that will feature live webcasts, and a weekly online magazine show that will cover skating news and events from around the world using contributions from interstate members worldwide.
About Interstate Universal:
Interstate Universal was founded by Baltimore home builder (and lifelong skater) Thomas Rowe as a media company that focused on the growth of skateboarding and other action sports. Interstate Universal's mission is to use the power of technology and world-class multimedia content to bring together skaters and skate fans from all parts of the world to advance the sport and the skater lifestyle.
About TheSpiroGroup:
TheSpiroGroup is a Baltimore based Marketing and Branding firm that provides incubator and venture marketing services to start-up companies in need of branding, marketing, interactive development, and business strategy. Founded by Spiro Alafassos, a former major league baseball executive with over 15 years of experience in sports marketing and interactive publishing, TheSpiroGroup helps launch companies and new business ventures and provides ongoing management and operational support to those ventures until they are able to operate independently.
###