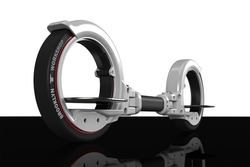 YOU CAN JUST SWERVE AND CARVE, AND GET THAT SAME THRILL FROM THE SLOPES ALL YEAR ROUND
Brooklyn, NY (PRWEB) April 20, 2011
Alon Karpman, an inventor, designer and the founder of Brooklyn Workshop, Inc., launches the award-winning Skatecycle—the world's first hubless skateboard. Constructed with a solid aluminum frame, ABS composite body parts and polyurethane wheels, the Skatecycle is a "hubless" self-propelled skateboard that combines the snake-like movement of a caster board with the carving action of a snowboard—all on a flat surface.
"As a kid, I started sketching out this concept," says Alon. "I was always fascinated with hubless wheel technology, I just didn't see anything that actually made real use of it. When I began working on the Skatecycle, I wanted to make sure that the final product would be what I envisioned over 20 years ago as a kid making sketches in my notebook."
The idea for the Skatecycle took concrete shape when Alon, an avid snowboarder, moved to New York from Los Angeles and immediately missed the easy access to ski resorts that he enjoyed out west. "With the Skatecycle, you don't need a hill, you don't need a half pipe, you don't need anything. You can just swerve and carve, and get that same thrill from the slopes all year round," he says. The Skatecycle's 9" donut-hole wheels enable rides with power, quickness, and a small (2') turning radius. The rider stands sideways, while maneuvering his or her feet and upper body to propel forward and "carve" deeply over flat surfaces, much like a snowboarder on a slope.
In 2002, Alon applied for—and was granted—a U.S. patent for what is the world's first known mass-produced, human-powered hubless skate. The final form took nearly ten years to perfect and in 2010 earned a bronze medal from the Industrial Designers Society of America (IDSA)'s 2010 IDEA Competition, becoming part of the permanent collection at the Henry Ford Museum. The Skatecycle has been featured in a wide variety of media, including Fast Company, GQ, Top Gear, BBC Focus, Gizmag, Yanko Design, Core 77, Gizmodo, BBC, and Discovery Channel. This year, the hubless skateboard made an appearance in the Saks Fifth Avenue catalogue shot by legendary photographer Albert Watson.
The Skatecycle is foldable, and weighs just 7.3 lbs. Priced at $149.95, the Skatecycle is available at http://www.brooklynworkshop.com/.
About Brooklyn Workshop, Inc.
Founded by inventor, designer and former lawyer Alon Karpman, the Brooklyn Workshop specializes in innovative, urban riding machines. The SkateCycle—released in 2010—is Brooklyn Workshop's first product.
# # #