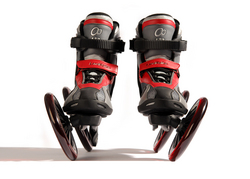 We really worked hard to significantly increase the quality and performance of the MOJO compared to our first generation angled wheel skate
Hermosa Beach, CA (Vocus) October 28, 2008
After two years of intense development, the LandRoller Corporation, maker of the original angled-wheel skate, is pleased to announce the limited availability of their next generation skate, called MOJO, for Holiday '08. Redesigned and re-fabricated from the ground up using advanced composite materials, the two-wheeled MOJO represents the state of the art in skating that challenges the very best of the inline, quad or quad-line designs.
The MOJO uses the patented LandRoller Angled Wheel Technology (AWT) that employs two oversized wheels in a uniquely stable angled configuration. The large wheels provide a much smoother, chatter-free ride than traditional inlines. The new all-plastic design takes advantage of advances in materials science that have allowed LandRoller to develop new production techniques for casting thermoplastic parts with integrated glass fibers. The result is a remarkably lightweight frame and wheel assembly that is strong and durable. MOJO not only replaces the old cast aluminum frame and wheels of their first generation skates but also does away with permanent bearings in favor of easily replaceable ABEC 7 bearing sets. LandRoller has also added more polyurethane in each wheel in a new blend that results in top tier speed with superior ground adhesion and much longer wheel life.
"We really worked hard to significantly increase the quality and performance of the MOJO compared to our first generation angled wheel skate," says Brian Conners, LandRoller President & CEO. "We spent the past two years analyzing our customer's feedback and devoting many thousands of man hours to the engineering and refinement of this new model. To do it right, we subjected this skate to numerous design iterations and conducted a comprehensive testing program. The commitment has paid off in what we believe to be a real milestone in skate development. Our second generation skate is far superior yet priced much lower than our first generation skate."
MOJO ($199.95) is now available on LandRoller's website, in selected retail locations across the U.S., and in several major foreign markets. Visit LandRoller.com for more information.
LandRoller Inc. is a privately held company headquartered in Hermosa Beach, California. It develops and markets radically novel roller skates that have proven to be superior in many aspects of skating performance. The large, angled wheel configuration of LandRollers provides a superior experience for skaters of all levels and abilities. This innovative technology delivers greater stability, better maneuverability, and a smoother, vibration-free ride.
###