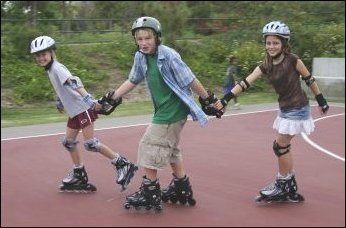 We're thrilled to partner with PE4life in its efforts to get children active and involved in life-long physical fitness activities
Kansas City, MO (PRWEB) April 10, 2007
Rollerblade®, the world leader in the in-line skating market, and PE4life, the nation's leading advocate for quality health and fitness programs, have joined forces in an initiative to fight childhood obesity through fitness-oriented skating programs in schools, K-12, across the country.
As part of the new partnership, Rollerblade is providing comprehensive skating packages (skates, helmets, protective gear, instructional videos and in-line skating curriculum) to each of the PE4life Academies across the country. PE4life Academies are exemplary health and fitness programs that train communities and school districts in the PE4life health-and-wellness-based approach to physical education. Rollerblade is offering PE4life Academies 15% off any additional equipment purchases and also is giving all Academy trainees a 10% discount on Rollerblade equipment.
"We're thrilled to partner with PE4life in its efforts to get children active and involved in life-long physical fitness activities," commented Nicholas Skally, marketing and public relations manager of Rollerblade USA. "Rollerblade was at the forefront of the New PE initiatives a decade ago with the development of Skate in School, and now we're in more than 1,000 schools nationwide with more than three million kids taught through the program."
PE4life advocates the adoption of lifetime health and fitness activities that enable progress towards physical conditioning goals as students and later as adults. To date, PE4life programs have positively impacted 1.5 million schoolchildren across the country. That number is expected to grow significantly as PE4life begins to implement an aggressive expansion campaign.
"We are delighted to team up with Rollerblade and help provide schools across the country with an innovative, fun, skating program that will enhance the health of our nation's students," said PE4life President & CEO, Anne Flannery. "Rollerblade shares our philosophy that students' long term health and wellness is best developed and ensured through quality physical education programs that focus on lifetime health and fitness activities. The Rollerblade Skate in School program certainly fits the bill."
According to a study by the University of Massachusetts Exercise Science Department, skating has aerobic benefits that are greater than stair-stepping and almost as good as running. Moreover, in-line skating is a low-impact workout, producing less than half the shock to joints that running does, while still burning up to 360 calories in 30 minutes for a 150-pound skater.
For more information about the Skate-in-School program, please call 1-888-758-4386 or visit http://www.skateinschool.com
About Rollerblade USA
Based in Hamilton, New Jersey, Rollerblade is a stand-alone subsidiary of the Tecnica Group. The worldwide headquarters of Rollerblade is in Trevignano (TV), Italy. Rollerblade is the founder and leader of the inline skating industry, with over 300 patented innovations. Rollerblade serves as the premier manufacturer of inline skates, related accessories and protective gear for over 17 million in-line skating enthusiasts. In
addition, Rollerblade has received several awards for its innovative technologies, including the first women's specific design, an extendible skate for children, a one-pull closure system called Total Fit System (TFS), and the proprietary ABT® braking technology for controlled, effortless stopping. For more information visit http://www.rollerblade.com or call (800)232-ROLL.
About PE4life®
PE4life® is a non-profit, advocacy organization dedicated to inspiring active, healthy living by advancing the development of quality, daily health and fitness programs for all children. Such programs provide a simple and inexpensive solution to reduce children's exposure to chronic diseases, while fostering lifelong fitness habits. PE4life® is headquartered at 127 West 10th Street, Suite 101 Kansas City, MO 64105, Tel. 816-472-7345, http://www.pe4life.org.
Contacts:
Carrie Gibson
PE4life
816-472-7345 ext. 133
Reade Bailey
Skate in School
952-941-2957
###