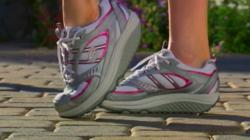 Los Angeles, California (PRWEB) September 17, 2012
The product liability attorneys at ESTEY BOMBERGER have filed another lawsuit against Skechers USA, Inc., on behalf of eight individuals who were allegedly injured as a result of wearing Skechers Shape-ups toning shoes. The case, Johnnie Anderson vs. Skechers USA Inc., was filed on September 13, 2012 in Los Angeles Superior Court (Case No. BC491960).
The suit alleges Skechers markets and promotes its toning shoes as footwear that will provide countless health benefits including improved cardiac function and orthopedic benefits. According to the complaint, "The health risks of Skechers toning shoes outweigh the absence of any benefit provided to the wearer. As of May 2011, Consumer Reports had documented that Skechers toning shoes had generated more reports of injuries or complaints than any other product in its database."
"We strongly feel that the Shape-ups shoes are very dangerous," says Mike Bomberger, who represents the eight plaintiffs in this most recent suit filed last week.
Court documents state plaintiff Johnnie Anderson was going on her usual morning walk in Hawthorne, CA, when she rolled her ankle and fell sideways, landing hard on her left shoulder and suffering a torn rotator cuff. She reportedly required several imaging studies, physical therapy and eventually surgery to repair the torn rotator cuff. According to the lawsuit, another one of the plaintiffs, Monica Ro, was wearing her Shape-Ups on a walk in Malibu when she rolled her ankle and fell. She reportedly suffered a broken ankle and had to be airlifted off the mountain. She later required surgery and physical therapy.
Estey Bomberger has filed several lawsuits against Skechers this year, including a lawsuit on behalf of 37 plaintiffs filed January 12, 2012 in Los Angeles Superior Court (case number B8476903).
Estey Bomberger's Skechers injury website lists some of the injuries that are allegedly associated with the toning shoes, including foot and ankle fractures, hip dislocations, back injuries, and broken leg injuries. Other less serious injuries include tendinitis, and foot, leg and hip pain. The website states that risks of injury are heightened in older individuals and those with balance problems.
About ESTEY BOMBERGER
The law firm of Estey Bomberger has received national recognition for representing victims of serious personal injury, dangerous and defective products, medical devices, and pharmaceutical drugs. The founding partners have been selected by the National Trial Lawyers at the Top 100 Lawyers in California, as well as being named in The Best Lawyers in America® and Super Lawyers®. For more information about Skechers Shape-ups injury claims, visit http://skechersshapeupsinjurylawyer.com or http://www.facebook.com/toningshoeinjuries.