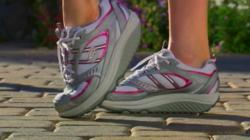 Skechers intentionally designed its toning shoes to create instability and to change gait mechanics
San Diego, California (PRWEB) January 16, 2012
The product liability law firm of ESTEY BOMBERGER (http://www.estey-bomberger.com) has filed a lawsuit against Skechers USA, Inc. on behalf of 37 plaintiffs across the country that suffered serious injuries as a result of wearing the Skechers Shape-ups and Tone-ups shoes. The lawsuit states that the toning shoes, most easily identified by their pronounced "rocker bottom" sole, have been on the market for several years, and advertised to provide countless health benefits including improved cardiac function and orthopedic benefits.
According to the lawsuit (filed January 12, 2012 in Los Angeles Superior Court, case number B8476903) Skechers USA, Inc., the manufacturer of the shoes, markets and promotes its toning shoes to be worn in place of other athletic shoes during daily activities, exercise routines, and in the workplace. The claim states SKECHERS Shape-ups slogans include: "Shape Up While You Walk" and "Shape Up While You Work."
"Skechers intentionally designed its toning shoes to create instability and to change gait mechanics," said Mike Bomberger, who represents the plaintiffs in the suit. "However, many studies have established drastically changing one's gait can and does cause chronic injuries. More importantly, the instability of the shoes can cause and has caused people wearing the shoes to fall."
Consumer Reports reported last year that, in the three months since they started their database in March 2011, the Consumer Product Safety Commission received more injury reports from toning shoes than in any other product. The previous year, in 2010, Consumer Reports warned the public about the possibility of injury from wearing toning shoes. "If you want to tone your legs and buttocks, we think you're better off spending time in the gym than wearing shoes that could send you to the couch with your foot in a cast," the report stated.
"The bottom line is toning shoes are very dangerous," said Mike Bomberger. "These shoes are creating a tremendous physical, emotional and financial burden on our clients. We have clients who have broken both ankles, broken vertebrae in their backs, and have had to undergo multiple surgeries."
Estey Bomberger's Skechers Shape-ups injury website lists some of the injuries that may be associated with the toning shoes, including hip dislocations, back injuries, and broken leg and broken ankle injuries. Other less serious injuries include tendinitis, and foot, leg and hip pain. According to the website, risks of injury are heightened in older individuals and those with balance problems.
About ESTEY BOMBERGER
The law firm of Estey Bomberger has received national recognition for representing victims of serious personal injury, dangerous and defective products, medical devices, and pharmaceutical drugs. The founding partners have been selected by the National Trial Lawyers at the Top 100 Lawyers in California, as well as being named in The Best Lawyers in America® and Super Lawyers®. For more information about Skechers Shape-ups injury claims, visit http://skechersshapeupsinjurylawyer.com.
###