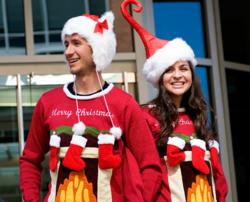 Skedouche adds even more sweaters and accessories to their festive, naughty, and lighted sweater collections.
Herndon, VA (PRWEB) November 15, 2011
The holidays are fast approaching and that means one thing: Skedouche, the leader in Christmas sweaters and accessories, is fully stocked and ready to fill your every Christmas wish for holiday sweaters, t-shirts, hats, glasses, and other festive accessories.
Skedouche is the place to find the most creative designs in tacky Christmas sweaters for men and women. Skedouche also features head-turning lighted sweaters (with tiny LED flashers) and a full line of "naughty" sweaters for the risqué partygoer. The fun starts at skedouche.com.
New for 2011: Lighted vests, hilarious holiday t-shirts, and even a "Happy Chanukah" sweater that looks great with the new Menorah hat and Menorah sunglasses! Plus lots of new Christmas hats – everything from "Cowboy Santa" and "Curly Q Santa" to reindeer antlers. And of course candy-cane striped scarves and canes to complete your holly-jolly look.
All Skedouche apparel is guaranteed brand new and in mint condition. Other stores sell used sweaters with no guarantee about condition – or who's been wearing them (yuck!). That's never the case at Skedouche, where their customers are assured top-quality merchandise in pristine condition. That's one reason Skedouche has been the "go-to" company for tacky Christmas sweaters since 2009.
The great Skedouche products are backed by the legendary Skedouche customer service that makes every customer a happy customer. All orders are shipped by FedEx, guaranteeing delivery in time for that big party or event.
And buying Skedouche means helping a good cause: One dollar of every sweater purchase goes to the customer's choice of five charities.
Whether you call your Christmas sweater "tacky" or "cheesy" or "ugly" or just "festive," there's only one place to get it: Skedouche, the top brand for variety, creative designs, high quality – and plain old hilarity! And that goes for all Skedouche products.
It's a new season and Skedouche is ready with more sweaters, more sizes, more lights, and more new products. It's all at skedouche.com. Follow Skedouche on Facebook too. Check it out and make this your wildest Christmas ever. Make it Skedouche.
###