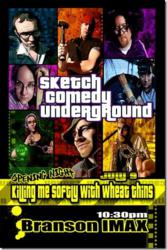 Branson, MI (PRWEB) July 28, 2011
Visit Sketch Comedy Underground on Facebook
This type of sketch show is new to the Branson entertainment mecca. "It's the first time that Saturday Night Live style sketch comedy has been done here." says founder, Jeramie Worley. Oddly enough admission is free, but a suggested $5.00 donation to benefit local charities is appreciated.
Performance Dates and Beneficiaries are:
10:30 PM July 30 – Child Advocacy Center of Springfield
10:30 PM Aug 6 – Jacob's House
10:30 PM Aug 13 – The Hiding Place Women's Ministry
Location of shows are at the The Little Opry Theatre located at Branson's IMAX Entertainment Complex and seating is limited.
http://www.facebook.com/sketchcomedyunderground
###