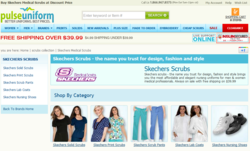 In the coming days, we will be making more changes all in name of expediency.
(PRWEB) March 01, 2012
Pulse Uniform has been consistent in their commitment to give customers the greatest value for their money by providing high-quality nursing scrubs at affordable prices. Dedicated to making their customers shopping experience convenient and fun does not only mean continuously updating their inventory with new products from trusted brands including Dickies and Cherokee scrubs. It also means making sure these customers has an easy time looking for whatever they need from the website. This is the reason why the Skechers scrubs page has been updated with a new design. The newly designed Skechers scrubs page makes it easier to filter whether one wants Skechers solid scrubs, Skecher print scrubs, Skecher scrub pants, Skecher lab coats or Skecher nursing shoes.
"Our customers are medical and healthcare professionals who live a busy life and they really do not have a lot of time to spend searching for the scrubs that they want," said Karen, Customer Support Manager. The different categories would make it easier for them to look for the exact Skechers scrubs they need, be it Skecher scrub tops in solid colors or in prints or Skecher scrub pants. They may know that we have nursing scrubs from trusted brands like Dickies scrubs and Cherokee scrubs or that we have collections from these brands but Skechers scrubs is kind of new in the medical apparel industry. With the different brands and styles, colors and prints, one could easily get lost in the wide array of choices."
She adds that customer support is available 24/7 and all customers have to do is give us a call or chat with any of us on Live Chat Support so we could help them out. Usually though these customers would rather have the chance to look for the nursing scrubs they really want to have. And the changes we are doing in the designs of our pages are always in answer to the evolving needs of our customers. And to making the shopping experience really fun and convenient so that they will come back for more.
"In the coming days, we will be making more changes all in name of expediency. Still we maintain low prices on all our nursing scrubs and accessories, the daily perks like free shipping on orders over $39.99, flat shipping rate of $4.99 for orders below $39.99, embroidery services that starts at $3.99 per line and the most innovative concept in the Uniform Stylist. Of course, we also continually update the stock of our best-sellers including trusted brands like Cherokee and Dickies scrubs," says Karen.
For more information, Pulse Uniform can be reached through their customer service hotline at 1.866.967.85.73 or visit their website and click on online chat. Channel your queries too through email by keying info(at)pulseuniform(dot)com. Share experiences and direct suggestions and recommendations through Facebook by visiting their page at http://www.facebook.com/pulse.scrubs.
###