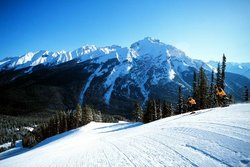 Moonachie, NJ (Vocus) September 28, 2010
World On Skis, a brand of Central Holidays, is pleased to unveil a new and improved website that allows visitors to easily search for and book incredible snowboard & ski deals and memorable ski vacations to the most celebrated ski resort destinations throughout the United States, Canada and Europe. Not only does the new World On Skis website boast an impressive "new look" and user-friendly design, but it also features a selection of some of the hottest snowboard & ski deals on the mountains during the coolest time of year - the winter travel season.
Travelers searching for the perfect snowboard & ski vacation will be delighted with the new and enhanced WorldOnSkis.com website – which beautifully displays the information they need to plan all aspects of a fabulous ski trip. Detailed information tabs now appear on each ski resort page so visitors can quickly peruse destination information by viewing real-time trail cameras, local events & activities and up-to-date ski trail information including trail maps, ratings, the latest ski conditions, mountain stats and more.
The easy-to-navigate Ski Resort pages showcase a variety of lodging options in a simple drop-down menu for prospective travelers to compare and contrast a range of hotel offerings. Hotel listings are accompanied by the starting nightly rates, which include all taxes and service charges with no hidden fees. There is also a Luxury Ski tab which showcases the ultimate in luxury snowboard & ski vacation packages offered at some of the finest ski resorts worldwide. For truly customizable snowboard & ski trip planning, World On Skis offers optional add-ons including roundtrip airfare, car rentals through Hertz or Alamo, lift tickets, ski rentals, meal plans, hotel upgrades, excursions and more.
For those who wish to take advantage of the season's best snowboard & ski vacations and lodging offers, the WorldOnSkis.com homepage features hand-picked "Hot Deals" of the week with a tab dedicated exclusively to these popular travel promotions. The "Hot Deals" consist of specially negotiated rates and added-value inclusions offered at a number of hotel and resort partners - and are continuously being added and updated to the website. The following is a small selection of current World On Skis "Hot Deals", featuring some of the best winter travel offers at top ski resorts in the U.S., Canada and in Europe (the starting rates are per person, based on double occupancy):
Hotel Walser, Courmayeur – 7th Night Free, Breakfast & Dinner Daily plus Airport Transfers from $641 pp!
The Walser Hotel is a family-run Italian property featuring stunning room views of the Monte Bianco mountain chain and easy access to lifts and the local shopping area. The current offer of 7 nights for the price of 6 includes breakfast and dinner daily, airport transfers between GVA, hotel taxes and service charges. See Mont Blanc, the highest mountain in Europe, while enjoying this wonderful Italian vacation package valid for travel between 1/09/11 to 1/29/11. (worldonskis.com/hotel/Courmayeur-Hotel Walser.html)
Delta Whistler Village Suites, Whistler – 4th Night Free w/ 3-Day Lift Pass, from $597 pp!
Hit the slopes in British Columbia with a complimentary 3-day lift pass to Whistler, while staying in the charming Delta Whistler Village Suites. Alpine-style room décor is complimented by fireplaces and jetted hot tubs to help guests wind down after a day of skiing. This offer is valid for travel between 1/02/11 to 1/30/11, and includes a 4th night free as well as a 3-day lift pass. Must be booked by November 15, 2010. (worldonskis.com/hotel/Whistler-Delta Whistler Village Suites.html)
The Lodge at Jackson Hole, Jackson Hole – 3 Nights for the price of 2, Breakfast Daily & 3-Day Lift Pass from $446 pp!
Ski Wyoming's famous Jackson Hole with a complimentary 3-day lift pass from The Lodge at Jackson Hole. This new, rustic resort property is located just one mile from Jackson's Town Square and was created with large timbered pines, featuring a cozy atmosphere that brings the wilderness inside. This current deal features a 3 nights' stay for the price of 2 and includes complimentary 3-day lift passes and breakfast daily. The offer is valid for travel between 1/02/11 through 2/06/11. (worldonskis.com/hotel/Jackson Hole-The Lodge at Jackson Hole.html)
Travel with World On Skis by Central Holidays ensures the very best skiing adventures for ski aficionados of all levels and budgets. World On Skis presents the ultimate snowboarding and ski vacations to the most popular destinations across the globe. It brings skiers the best value-packed travel opportunities money can buy, whether they prefer downhill skiing, cross country trails, spectacular snowboarding or simply enjoying the invigorating mountain air, stunning panoramas and distinctive world cultures. For additional information or to make reservations, contact World On Skis, a brand of Central Holidays at 1-866-678-5858. To book online, visit their Web site at WorldOnSkis.com.
Media Contact:
Marlene Oliver
NJC Communications
(305) 491-0512
Cassie Dittrich
NJC Communications
(802) 522-0714
Technical Contact:
Anthony Berardo
Berardo Marketing Group, LLC
201-970-7698
bmg-website.com
# # #