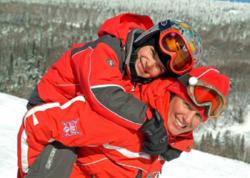 Moonachie, NJ (PRWEB) September 26, 2012
World on Skis, a premier member group of Central Holidays, is more than delighted to announce its latest special group package, the Ski Italy Friends and Families Program 2012-2013. Dedicated to families and groups of friends who are looking forward to visit Italy, this package provides more than just the typical ski vacation for the winter season. It gives clients the best of what the snow-capped mountains of the upper Mediterranean have to offer.
This ski trips under package are available from January 6 to February 2, 2013. The dates prove to be ideal as families and groups of friends are able to prepare for a highly-anticipated travel outing without getting in the way of the most important holiday commitments, Christmas and New Year.
The Ski Italy Friends and Families Program cover the following:

round-trip airfare from JFK Airport in New York to Milan, Venice, or Alitalia
accommodation at a first class hotel for 7 nights
round-trip airport transfers by a private motor coach
daily buffet breakfast
daily dinner
What makes the package more enticing is that it offers convenience; clients are not subject to pay for hidden fees and taxes as the program is already all-inclusive. The only things left for clients to prepare for are their travel documents and deciding the date to book a reservation.
This Italy ski vacation package is enjoyed most by ski enthusiasts and amateurs who wish to learn more about the sport. The ski resorts provide basic tutorials conducted by highly-trained instructors, thus travelers of all ages get to experience the adrenaline rush offered by the sport. Aside from skiing facilities, these resorts also provide other recreational amenities, such as snowboarding areas, downhill skiing slopes, and cable rides that give a scenic view of the Italian mountains.
Another great feature offered by the Ski Italy Friends and Families Program is that the package is open for add-ons and optional perks. Travelers who wish to enjoy more of Italy may request for special sightseeing tours around the city and other excursions. These are ideal for those who are not totally fond of ski vacations per se, but would want to make the most out of their stay in the country.
Ski vacation packages begin at $1,663, depending on the chosen ski destination, amenities and add-on activities. Being a group package program, prices are good for at least 10 passengers traveling together. Among the choices for the ski trips include:
Cervinia - $1663
Courmayeur - $1680
Bormio - $1719
Cortina - $1877
Clients get to stay at a four-class hotel of their choice, provided that it is listed under the choices available in the program. Lower prices may be available for those who opt to stay at a three-star hotel. With this wide range of choices, clients are able to enjoy their ski vacation to the fullest, as package rates fall at affordable prices.
About World on Skis:
Travel with World On Skis by Central Holidays ensures the very best skiing adventures for ski aficionados of all levels and budgets. World On Skis presents the ultimate snowboard and ski vacation packages to the most popular destinations across the globe. It bring skiers the best value-packed ski deals money can buy, whether they prefer downhill skiing, cross country trails, spectacular snowboarding or simply enjoying the invigorating mountain air, stunning panoramas and distinctive world cultures. For additional information or to make reservations, contact World On Skis, a brand of Central Holidays at 1-866-678-5858. To book online, visit their website at WorldOnSkis.com.
Contact:
Anthony Berardo,
Berardo Marketing Group, LLC
(201)-970-7698
http:.//bmg-website.com