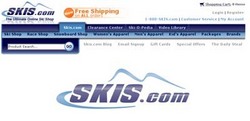 Every skier will agree that to a have a great day out, you have to stay warm and dry
Bloomfield Hills, MI (PRWEB) December 19, 2008
With the winter upon us, Skis.com, the ultimate online ski resource, is offering tips for staying warm on the slopes. Selecting the right ski equipment is critical, and customers of Skis.com can visit the Ski-O-Pedia, Skis.com's online resource for articles and tips from ski experts.
Some of the articles located on Skis.com's Ski-O-Pedia include "Dress for (Slope) Success," "Keeping Your Feet Warm," and "Buying Guide: Goggles." All of these articles are designed to assist skiers in selecting the men's and women's ski wear and equipment that will keep them warm, resulting in longer days on the mountain and more runs.
"Every skier will agree that to a have a great day out, you have to stay warm and dry," said Skis.com owner Steve Kopitz. "There have been a number of advances in clothing styles and technology to help skiers. New fabrics and high-tech materials wick away moisture to keep skiers dry but are thin enough to allow them to wear multiple layers to stay warm."
Cotton, for example, is a great fabric, but is not ideal for men's and women's ski wear. According to Kopitz, cotton is designed to hold moisture, and that moisture gets trapped in the fabric as skiers sweat. The trapped moisture then pulls the warmth from the skin, resulting in less than optimal comfort.
Kopitz also recommends dressing in many thin layers, as opposed to one heavy layer. He recommends a first layer of thermal underwear, a second layer shirt made out of synthetic material, like a fleece, and a jacket or shell to top it all off.
Accessories like hats, ski helmets, and gloves are just as, if not more, important than jackets and ski pants to keeping warm.
"Keeping your head, hands, and toes warm is critical because your body loses most of its heat from those three areas," said Kopitz. "Nowadays, many gloves take advantage of the layering principle through use of a thinner fleece or microfiber under-glove that slips into the main glove. I recommend a helmet for your head. Not only can a helmet be warmer than a regular ski hat, it's much safer."
Skis.com offers a wealth of information for all skiers and also carries a wide selection of choices for all of the ski equipment and apparel referenced in the expert articles. Skis.com customers have the unique flexibility to read about how to select a product and use the advanced filtering system to search Skis.com quickly and efficiently for the product that best fits their needs.
To read Skis.com's tips for staying warm or to purchase men's and women's ski wear or equipment, visit Skis.com.
About Skis.com:
Skis.com is an online ski shop and resource offering an enormous selection of skis, ski boots, apparel, racing ski equipment, snowboarding gear and accessories for all varieties of snow sports. Visitors to Skis.com also can consult its Ski-O-Pedia for complete answers and information on fitting, comparing and selecting skiing equipment.
###